Sure, Major League Baseball just got underway, but don't be surprised if prolific director Ivan Reitman's new sports drama "Draft Day" gets you thinking fall the minute the clock starts ticking down toward the film's climactic No. 1 pick.
Opening in theaters nationwide on Friday, "Draft Day" comes about a month before the real NFL draft day, where general managers from across the league will be under intense deadlines, hoping their strategies and draft analyses of the hottest players in college football pan out come September. Thanks to Reitman's innovative filmmaking and an all-star cast including Kevin Costner, Jennifer Garner, Denis Leary, Frank Langella and Ellen Burstyn — as well as the infusion of real-life NFL stars and personnel into the fray — "Draft Day" feels so real that it could almost best be deemed a docu-drama rather than a work of fiction.
In a recent interview, Reitman told me that he feels the film extends far beyond the sports drama genre.
"I actually describe it as a suspense movie — just as the draft works against the clock — this whole movie does," Reitman said. "There are a lot of things that contribute to the tension and the pressure that our main character is under."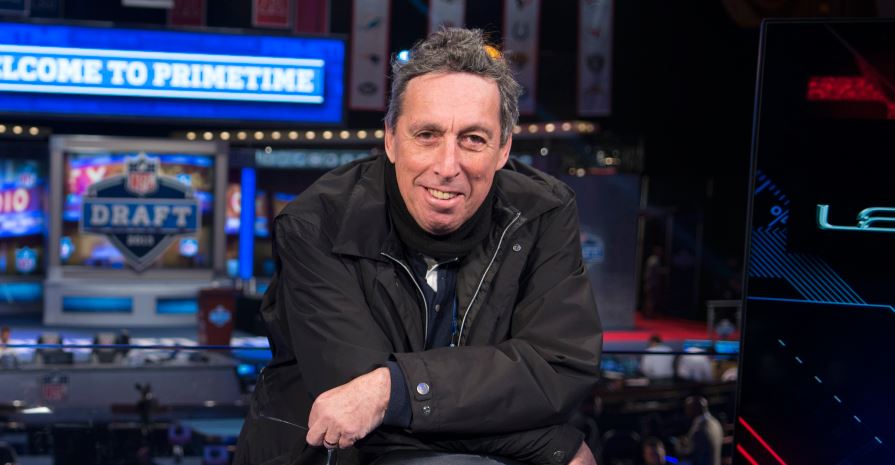 "Draft Day" stars Costner as Sonny Weaver Jr., the son of longtime and recently deceased coach of the Cleveland Browns. Living in the shadow of his beloved father, Sonny is under pressure by the team's owner (Langella) to make a splashy pick in the first round of the NFL draft in a bid to turn the long-struggling franchise around — even if it means going against his better judgment. Adding to the tension is the revelation that his fellow Browns executive and girlfriend, Ali (Garner) is pregnant, and a heap of backlash from the likes of the team's new coach (Leary) and the Browns' organization and fans when Sonny starts making risky and questionable moves in the hours leading up to the draft.
Reitman said in addition to the suspense, it was the human drama of "Draft Day" that engaged him in the project.
"There's every kind of human drama in the film," Reitman explained. "His relationship with hi
s potential rookies is a very important part of the film. He's just lost his own father, and now he's contemplating this mock fatherhood with one of three potential players he's thinking of drafting. He has to be the head of the family of this sports organization, and he's about to be an actual father, too, with Ali, who he's been secretly seeing. There's a lot of stuff that goes on that resonates."
At the heart of "Draft Day," though, is the actual draft itself, and the virtual roll of the dice general managers have to take when picking up top prospects and paying them millions of dollars in the hope that they'll be their team's big savior.  In much in the same way "Moneyball" chronicled the inner-workings of Major League Baseball, "Draft Day" also delves into the intangibles, examining things like a player's character and his relationship with fellow college teammates, and how things may potentially affect the long-term outcome with their new, professional team and the people around them.
"One of my favorite scenes in the movie is a speech given by Jennifer Garner near the end of the film, where she talks about Ryan Leaf and Tom Brady — with Ryan going at No. 2 in the draft with no career whatsoever, and Tom being one of the greatest quarterbacks in history, who was drafted 199th," Reitman said. "It's a film about important decisions, and nobody really knows anything for sure. They have statistics from the combines, and statistics from their college histories, but it doesn't necessarily track."
Reitman, who has produced such classics as "Animal House" and "Stripes," and directed the blockbuster "Ghostbusters" films and "Dave," said "Draft Day" has already been screened by a huge number of professional and college coaches and players. Time after time, he said, one element sticks out to them.
"What they love about the movie apart from how realistic it is, is how it emphasizes character as a defining thing for those players who actually do well in the professional league – it's as important as skill," Reitman, 67, said. "Of course, luck plays a big part of it, too."
Ironically, it's luck — specifically Indianapolis Colts quarterback Andrew Luck — who plays an unseen role in the film, as the textbook example of a "sure thing" in the draft. Now, it's Bo Callahan (Josh Pence), touted as the best quarterback prospect since Luck who is viewed as the overwhelming choice as the No. 1 pick in the draft; but a player whose swagger and character comes under suspicion by Sonny despite Bo's winning ways.
In some ways, Reitman said, Callahan is a representation of Johnny Manziel, a.k.a. "Johnny Football," the Texas A&M quarterback who may or may not be a top pick in next month's NFL draft.
"We had him see the movie and I was wondering if he was going to be insulted by it, but he and his manager really liked it," Reitman said with a laugh. "I was waiting for that call where they were going to suggest we were insulting him. He certainly could be good stand-in for the Callahan character, at least for the fears that everyone has about him — that he's all flash and not enough character — never mind the issues that he's too small or whatever. That's what's so great about football and the draft itself, is this sort of conversation that's going on around the country. Every single fantasy football player is acting like a general manager himself right now, having to deal with some of these questions."