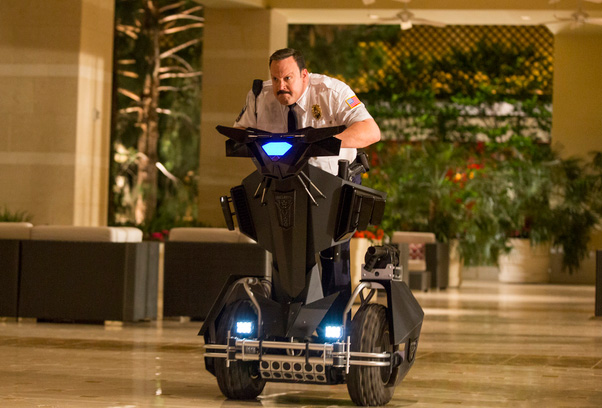 "Paul Blart: Mall Cop 2" (PG) 1 1/2 stars (out of four)
Following a charming and often-times funny introduction to the world of shopping mall security in 2009 with "Paul Blart: Mall Cop," the wheels on Kevin James' Segway go flat in "Mall Cop 2," a virtual re-hash of the first film that only earns points for moving the action to a different setting.
James dutifully reprises his role as Paul Blart, a now-legendary mall cop in New Jersey who earned fame for single-handedly thwarting a mall heist in 2009.  Despite his professional accomplishments, though, Blart's personal life is a mess (two major characters from the first film exit the sequel  in particularly cruel ways) and he's about to get another shock from his daughter, Maya (Raini Rodriguez). There is a bright spot ahead for Blart, though. He's about to attend the grand-daddy of security officer events in Las Vegas with Maya on what is meant mostly to be a vacation.
Naturally, nothing ever goes as planned for Blart, and just as he checks into one of Steve Wynn's resorts, a crew of bad guys begin to assemble an elaborate art heist that Maya gets caught in the middle of. With a bunch of new mall cop weapons at his disposal via some high-tech vendors on the convention floor, Blart rolls out on a souped-up version of the Segway with the intention of saving his daughter and ultimately, saving the day.
Despite his winning presence as Blart (James has an inherent likability factor going for him no matter how good or bad his films are), "Mall Cop 2" almost immediately falls victim to sequelitis. By moving the action to Las Vegas with different characters and new motivations, there's no doubt James (who co-wrote and produced the film) at least attempted to shake things up; but the thin storyline ultimately resorts to using the same gags from the first film to wring out any sort of laughter. The jokes, as hard as James tries, are mostly eye-rolling unfunny, and the physical humor he injects into the role quickly becomes old shtick. It's a real disappointment.
Tim Lammers is a veteran entertainment reporter and a member of the Broadcast Film Critics Association, and annually votes on the Critics Choice Movie Awards. Locally, he reviews films for "KARE 11 News at 11" and various Minnesota radio stations.