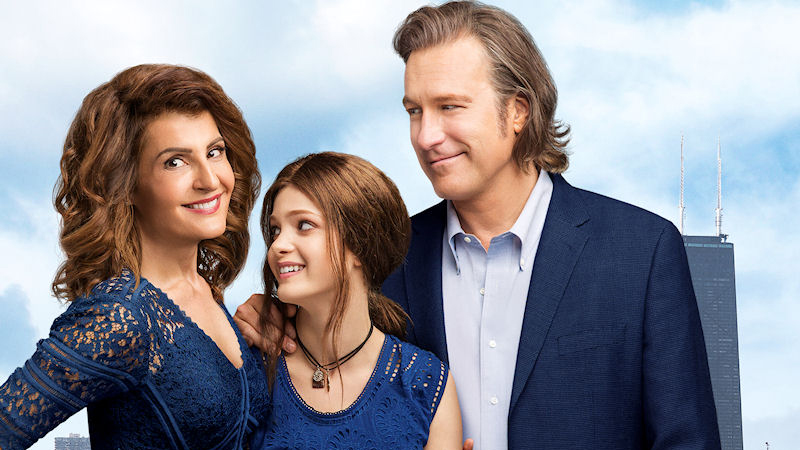 When it comes to the success of "My Big Fat Greek Wedding 2," star and writer Nia Vardalos said the movie's a hit, no matter the financial outcome. For Vardalos, who earned a Best Original Screenplay Oscar nomination for the first "Greek Wedding," the second "Greek Wedding" is already a great success for the simple fact that, like the first film, it's connecting with the audiences.
That's all, Vardalos told me in a phone conversation Friday, that she could ever hope for.
"I cannot believe it happened with the first movie, and for it to happen again with this one — it's not about the box office financial success. It's about people seeing their family in my family again," Vardalos said, giddily. "I love that. It's like a big fat family reunion … what we love is watching the audience come out of the theater laughing, smiling and talking. We go from theater to theater and hide and watch audiences, because seeing their reactions makes us feel like we've reached out and connected with people again. It's a feeling of being understood by a generation of people saying, 'That's my family!'"
Now playing in theaters nationwide, "My Big Fat Greek Wedding 2" picks up 17 years after the nuptials between Toula (Vardalos) and Ian (John Corbett), where the couple is fretting the decision of where their 17-year-old daughter, Paris (Elena Kampouris), will attend college. Trying to manage her daughter's life, her life with Ian and her parents' lives, the exhausted Toula's life is turned completely upside down when a Portokalos family secret is uncovered, leading to a chaotic tiff between her mom, Maria (Lainie Kazan) and dad, Gus (Michael Constantine).
Of course, given the blockbuster success of the first "Greek Wedding," it shouldn't come as a big surprise that Vardalos was immediately approached about doing a sequel. Also a surprise was that she opted to live a life that would truly inform a follow-up narrative, which explains why it's been 14 years since the last invitation to another "Greek Wedding."
"My family and friends were shocked when I said 'No' to the sequel offer that was immediately extended to me after the success of the first film," Vardalos said. "I said, 'I can't, and here's the truth why. I'm in a private struggle to become a mom, and it's not happening. How would I write that Toula and Ian are parents, which I had written at the end of the first movie in a moment of wishful thinking, but not having experienced it myself?' My producers and John Corbett were so kind about it, and everybody immediately understood and said, 'Got it.' But then, my producers said, 'The door's always open.'"
Vardalos, who chronicled her and husband Ian Gomez's struggle to become parents and the wonderfully blessed adoption of their daughter in her book, "Instant Mom" (HarperOne, 2013), said she realized on the promotional tour of the book that the time had come to tell the story of the second "Greek Wedding" the way it was supposed to be told — naturally.
"I believe now in the order of things. I believe everything was supposed to happen to me, and not work, so that I could meet my real daughter. I get it now," Vardalos said. "This is why I feel this was the time for the sequel. There was no way I could have written the story of wanting to stay close to my daughter if I didn't experience motherhood. So, I'm grateful for all the years I've waited, and I'm grateful that my producers waited for me."
Since Vardalos and Gomez became parents, the actress-filmmaker has become a major advocate for adoption. In fact, there's a mention of adoption in "My Big Fat Greek Wedding 2" that put a huge smile on this writer's face, since adoption has played a huge part in my family's history.
"I like to float the idea of adoption out there to open people's minds up so they think, 'Hey … maybe,'" Vardalos said.
For Vardalos' part, she's been making prospective parents adoption dreams a reality since she's been donating all proceeds of "Instant Mom" to adoption charities.
The beauty is, Vardalos is helping create more families through her adoption advocacy efforts — families that no matter their heritage will be able to celebrate their own weddings someday.
"We found out recently that the proceeds have gotten close to 1,000 children adopted," Vardalos enthused.