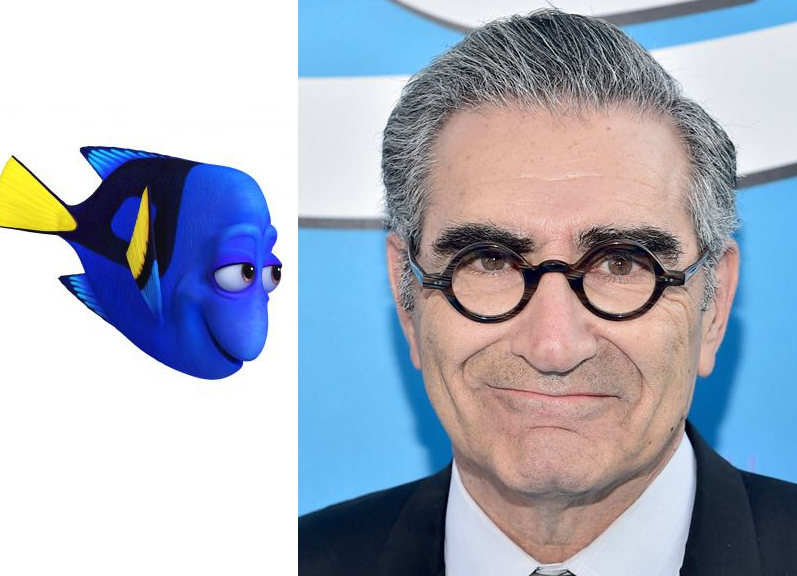 Tim Lammers talked with comedic genius Eugene Levy about his voice role of Dory's father, Charlie, in the new Disney-Pixar blockbuster "Finding Dory."
See an excerpt of the interview below and read the entire interview on D23.com.
After more than 100 credits in film and TV, comedic genius Eugene Levy has finally dived into the world of Disney•Pixar Animation with Finding Dory—the long-awaited sequel to the 2003 blockbuster Finding Nemo, starring Ellen DeGeneres in the title role as the forgetful blue tang fish trying to muster enough memories to find her way home to her parents.
Voicing the role of Dory's dad, Charlie (opposite Diane Keaton as Dory's mom, Jenny), Levy, despite having a unique set of pipes, has surprisingly only done a handful of animated projects over his 45 years in the entertainment business. Mostly, he's dedicated his talents to classics like the famed sketch comedy series SCTV, the improv film gems Waiting For Guffman, Best in Show, and A Mighty Wind, and the hit American Pie film series. Currently, Levy stars opposite his frequent collaborator, Catherine O'Hara, in the hilarious riches-to-rags sitcom Schitt's Creek on Pop TV.
Levy, 69, recently spoke with D23 about his work on the new, big sea adventure and yes, even his very distinct set of eyebrows.
D23: As many of your projects will attest, you're so brilliant at improvisation—and it seems to me being in the sound booth on a film like Finding Dory would give you the opportunity to put those skills to work.
Eugene Levy (EL): Not necessarily. The scripts you usually get for animated films, especially like Finding Dory, you find that there's so much time that goes into them that what's in them usually ends up on the screen. So, the idea that you can go in and think you can just improvise your way through a scene is not necessarily the way to go. I don't think I'd presume that I would just go in and take off on what they have on the page. We take our cue from [director] Andrew Stanton, and there are moments where he will say, 'Lift it off the page and see where you want to take it and improvise,' and he'll guide you in that direction and say, 'Let's try it on this one.' So in certain sections he might say, 'Go ahead and do it your own way' or, 'If you come up with something better than what we have, then just go ahead and try it.' He's always open to that, but you better be pretty confident that what you're coming up with is better than what's on the page.
D23: It's been 13 years since Finding Nemo, and I'm wondering what your recollections are of seeing that film for the first time and whether you've been hoping for an opportunity over the years to become a part of a Pixar production.
EL: I like the way they turn out hits, and the reason they become hits is because they encompass what's best in the world of comedy and what's best in the world of drama. They have a knack of combining comedy and emotion better than anybody, and their track record is just incomparable. You never sit by the phone and wait for the call to be a part of it, but I remember when I saw Toy Story, I had a slight envious feeling of the actors in it, thinking, 'What a great animated feature to be a part of.' It was so fun and funny. When I saw Finding Nemo all those years ago and all the impact that it had, I honestly never thought of a sequel to it—I don't know who did, actually—but when I got the call to be a part of it, I thought, 'Wow.' That's the kind of call you love getting.