Four years after his last big screen adventure, the former supervillain-turned-agent of good Gru is back with "Despicable Me 3," the latest animated family comedy from acclaimed screenwriters Cinco Paul and Ken Daurio.
Together with Illumination Entertainment founder Chris Meledandri, the trio became a force to be reckoned with right out of the gate in 2010 with Illumination's first film "Despicable Me." The blockbuster hit told the unique story of how the adoption of three orphaned sisters softened the heart of the world's most devious supervillain, Gru (voiced by Steve Carell). The success of the first film, of course, to the 2013 smash "Despicable Me 2," where the Gru meets the love of his life with Lucy (voice of Kristen Wiig), an Anti-Villain League super-agent.
"We ultimately landed on the fact that these movies are ultimately about family," Paul, along with Daurio, said in a phone conversation this week from Los Angeles. "Although I don't think we'll be ever able to touch the emotion of that first movie, because there's something special about Gru becoming a dad and the girls changing his life. We feel like each movie we're going to expand the family, and deal with the challenges of things like sibling rivalry, or in this film, Lucy becoming a stepmom. She's so accomplished as an agent, but feeling so insecure about being a mom now."
New in theaters Friday, "Despicable Me 3" finds Gru and Lucy in a quandary after they're both fired by the AVL after failing to apprehend the notorious former '80s child star-turned-supervillain Balthazar Bratt (Trey Parker) after he pulls off an elaborate heist. Out of work and going broke, Gru's fortunes change when finds out he has a long, lost brother named Dru (also voiced by Carell), a very rich and successful pig farmer. Gru soon discovers, though, that Dru amassed his riches thanks to their dad, who, as it turns out was the world's greatest supervillain in this time — and Dru wants his brother to get back into the game.
Paul and Daurio said the "Despicable Me" film series was never planned as a trilogy or even a franchise. In fact, their goal was just to get the first film made.
"We were hoping, 'Maybe they'll let us make another movie' — not necessarily a sequel, but we were just hoping the company would get going and we would be on our way making films, never thinking this would become a franchise," Daurio said. "We just thought, 'This is this really a fantastic story about three little girls and this supervillain, and how they changed each other's lives,' and thought was going to end there."
But once they were approached by Universal to create the first sequel, they realized that the first film had a theme that they could build upon in a meaningful way.
"When we met with Chris Meledandri about it, we realized, 'Ah! Gru needs love.' He found one kind of love by becoming a dad and now he needs another kind of love, so we found him romance with Lucy in the second film," Paul said. "That was the same process with this third movie. While he has kids and while he has a wife, maybe there's another kind of love that he hasn't experienced yet, which would be sibling love — brotherly love."
"Once the door opened to a sequel, everything became a possibility," Daurio added. "Now it's a lot easier for us to think of sequel ideas because we've seen how big the family can get and the opportunities we have for exploring the family dynamic."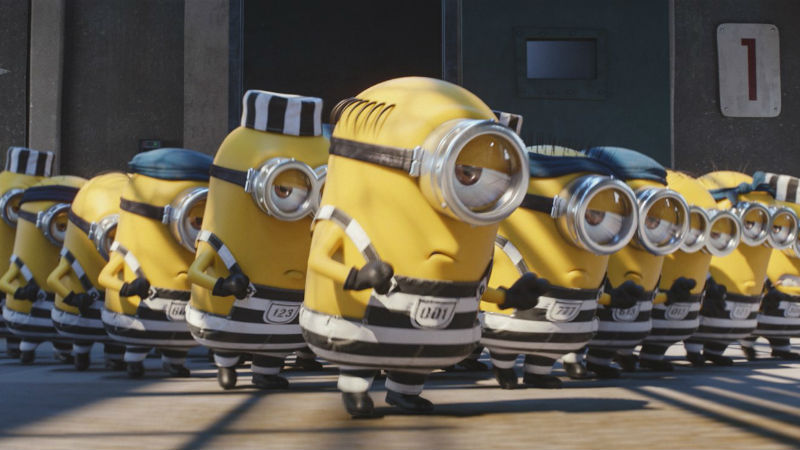 Also included in the "Despicable Me" family are Gru's Minons, who, of course, got their own prequel movie last year. Like the possibilities with Gru's story, Paul and Daurio said the opportunities for new and exciting Minion storylines are endless.
"One of the first ideas for this movie was that the Minions should go to prison. We thought that would be really fun," Paul said with a laugh. "As writers, we just wanted to lock the Minions up for a little while. We just thought the Minions would play great in jail. That sequence is so much fun."
While Paul and Daurio originally conceptualized the Minons on the page, they say the characters truly took shape, quite literally, under the auspices of director Pierre Coffin. The filmmaker, who has directed all three "Despicable Me" films and "Minions," not only came up with the design of the yellow, pill-shaped henchmen, he also does all the voices for them.
Paul and Daurio said that for "Despicable Me 3," Coffin was also pivotal in the shaping of the scene where the Minions inadvertently land in the middle of a singing competition, putting their unique brand of gibberish to work as only the characters can.
"That was an idea that Pierre came in with early in the process of making the film," Daurio recalled. "He said, 'I have this idea for a Minions scene and I can't explain it to you, so I'm going to just show it to you' — and he played us the Gilbert and Sullivan song you see performed in the film."