Founded in New Jersey in 1996, the National Entertainment Collectibles Association (NECA) has not only long been associated with excellent product, but lauded for its ingenuity to produce action figures for films that didn't get a toy line when they were released in theaters.
Currently, NECA is preparing for its annual pilgrimage to the San Diego Comic-Con next week to reveal upcoming products and sell exclusives figures from such licenses as "Coraline," "Aliens" and "Predator." In the middle of the madness, NECA's director of product development, Randy Falk, answered a few questions by email about the company's vintage offerings and SDCC exclusives.
 Tim Lammers: Thanks for your time, Randy. I have to admit, I was so thrilled to hear NECA was going to produce "The Lost Wave" of "Prometheus" figures. What factored into that decision? Was it because of the pending release of "Alien: Covenant" or the continuing success of the your "Alien" line? 
Randy Falk: Thank you! For the "Prometheus" Lost Wave, it was little of both, actually. There was continued interest from a small but vocal fan base that five years on still wanted to see these figures happen, and with the release of "Covenant" on the horizon it felt like the right time to do it. This is really a gift for the loyal fans.
TL: Could this signal the beginning of more "lost waves" being produced? Is there another example of something NECA had in the prototype phase that didn't make it to store shelves, which you would like to see completed now?
RF: I don't know if I would go that far… the tooling is the biggest expense in manufacturing figures of this kind, and usually if something does not get produced it's for a good reason, so it's tough to justify those costs.
TL: What are the chances of the first waves of "Prometheus" figures being reproduced to compliment the "Lost Wave" of figures?
RF: Slim to none, unfortunately. The audience has not grown much since release and as far as the toys are concerned, the sales were never near the level of our "Alien" line.
MORE: Tim's articles on NECA for Screen Rant
— James Cameron is getting an 'Aliens' action figure
— Paul Reiser 'Proud' of 'Aliens' action figure
— 'Alien: Covenant' action figures revealed
TL: I think what separates NECA from so many other toy/collectible companies is their commitment to develop figures on vintage licenses whereas other companies concentrate solely on current releases. What drives that mindset to produce vintage licenses?
RF: Honestly, I would be thrilled to work in what I call the golden era/decade of '77 – '87 as much as I could. That 10-year period encompasses all the best in film, music, and video games and the nostalgia factor makes these brands successful 30 to 40 years on, not only with the people who grew up with them but the younger audience that has discovered that greatness on video or Netflix or cable. I love the classics and for the most part there isn't much in modern entertainment that comes close. There is a reason Jason or Freddy or "Alien" or "Predator" still resonate today, or why a 4-year-old loves Gizmo as much as a 40-year-old who saw "Gremlins" in the theater in 1984.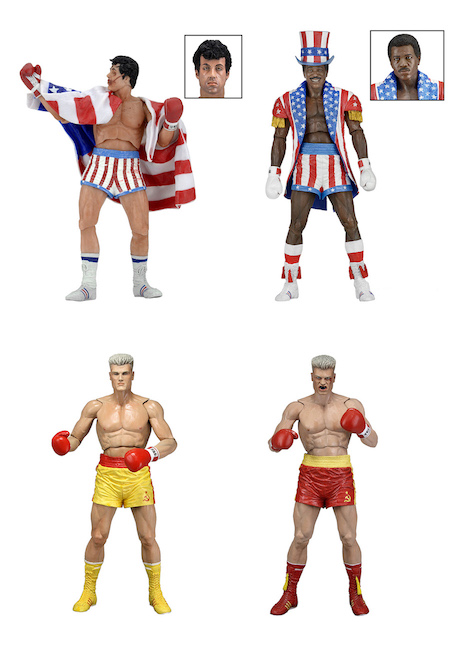 TL: I'm thrilled that you've reissued the "Rocky" figure line (and I especially love the "Rocky IV" Apollo Creed). Given that these figures were popular enough to reissue, is there any desire to expand the line to include Mickey, etc?
RF: Thanks, and these are a lot of fun to create. It is unlikely we would do a Mickey or Adrian because of all the new tooling costs involved, added to their limited appeal compared to Rocky, Apollo, Clubber, etc. We do have a fantastic set of maquettes coming, though, based on the puppets used in an old iced tea commercial. These are great versions of Rocky and Mickey.
TL: Perhaps one of the biggest surprises for exclusives being produced by any company for SDCC is the "Coraline" Display and figure. Is that tied into the 10th anniversary of LAIKA, and, is it possible NECA will be reissuing any of its previous "Coraline" figures?
RF: I can't elaborate too much on this at the moment, but yes, we are definitely celebrating Laika's 10th anniversary. We love all of their films and are thrilled to be working with them again. "Kubo and the Two Strings" was one of my favorite movies last year, in fact! We have a lot of things in the planning stage now, but for the moment I can only say there will be new figures and more.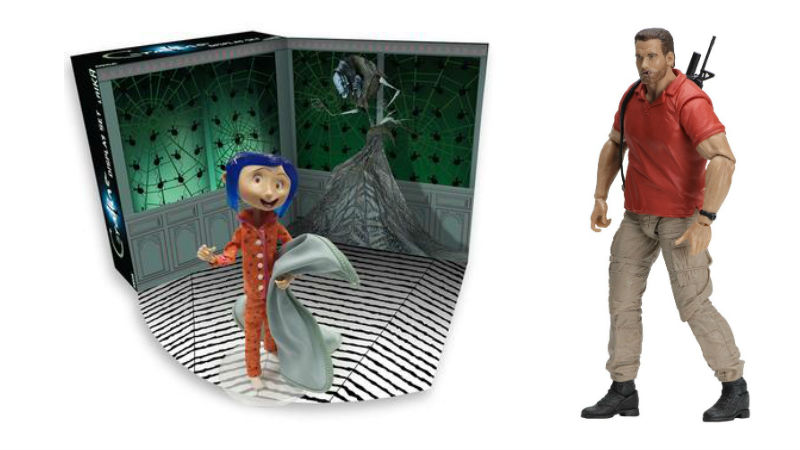 TL: It's great to see that NECA is offering the Jungle Briefing Dutch as an exclusive at SDCC. Any chance we'll get Carl Weathers' Dillon at some point?
RF: We would absolutely love to produce a Dillon figure and have made many attempts to reach an agreement with Carl for the use of his likeness as Dillon. Fox, which holds the license for "Predator," does not have any of the likeness rights to the actors within the film. We were able to make a separate agreement with Arnold to include Dutch in the line, but that happened around the 7th series in the "Predator" line, so as you can see it can take a while. This year we celebrate "Predator's" 30th anniversary, so we have some Dutch figures and classic Jungle Hunter Predator figures back out in the market. We would still love to include Dillon and hope that one day it can happen, but that is still to be negotiated with Carl Weathers.
Copyright 2017 DirectConversations.com.