Oscars statuette/image ©/® A.M.P.A.S.
With 14 nominations going into Sunday night's Oscars, it's pretty obvious that the Hollywood song-and-dance musical "La La Land" has the leg-up, so to speak, on the competition. However, while voters will go gaga over "La La," don't expect a clean-sweep and record-breaking number of wins (12). It will have to settle for a record-tying number of most nominations (14) instead.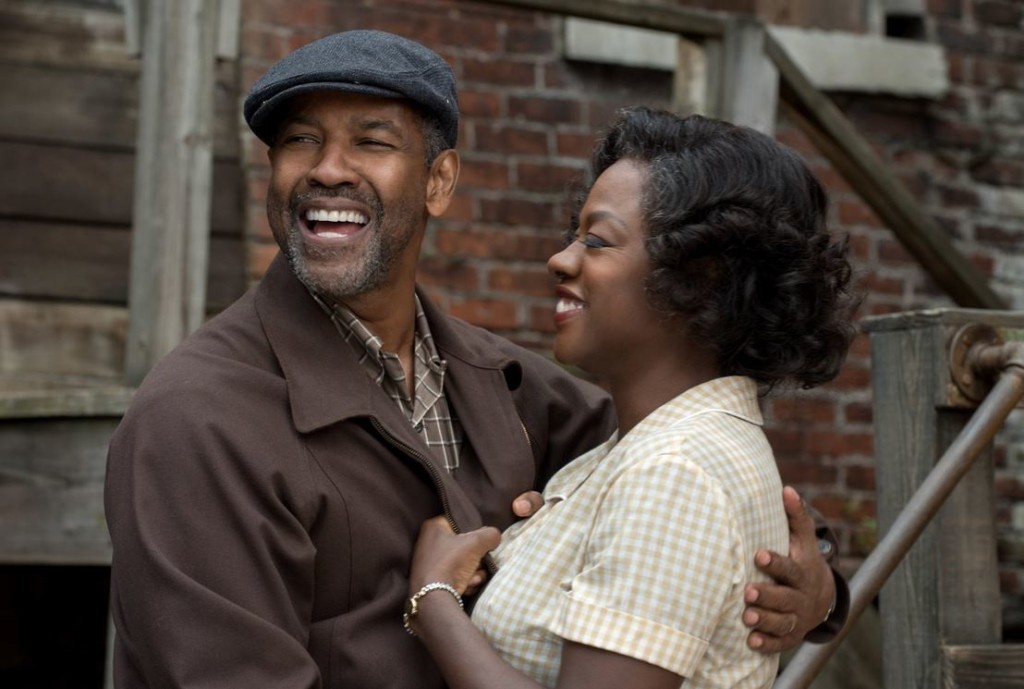 Here are my predictions for the top five categories:
Best Supporting Actress nominees
Viola Davis: "Fences"
Naomie Harris: "Moonlight"
Nicole Kidman: "Lion"
Octavia Spencer: "Hidden Figures"
Michelle Williams: "Manchester by the Sea"
WILL WIN: Viola Davis. A veteran performer who should have won for Best Actress for "The Help" in 2012, Davis will easily win in a supporting role this year (she's already taken the SAG Award in the category) and is the night's only sure thing.
SHOULD WIN: Viola Davis. Davis' performance opposite Denzel Washington is so strong that it almost feels like a lead. In fact, she would have probably won the Best Actress Oscar as a lead. It's the first case of two Oscar races where you would hope for a tie, since four-time nominee Michelle Williams deserves the award just as much, mainly for her heartbreaking scene opposite Casey Affleck in the final act of the film.
Best Supporting Actor nominees
Mahershala Ali: "Moonlight"
Jeff Bridges: "Hell or High Water"
Lucas Hedges: "Manchester by the Sea"
Dev Patel: "Lion"
Michael Shannon: "Nocturnal Animals"
WILL WIN: Mahershala Ali. The veteran actor has won virtual every award up to this point, including the SAG Award in the same category. Plus, he's been a solid actor in every film and television show he's appeared in for years.
SHOULD WIN: Michael Shannon. Just as reliable as Ali is Shannon, who clearly gives the strongest supporting performance of the year in the under-appreciated "Nocturnal Animals." An upset in this category is not entirely out of the question, if you consider Mark Rylance's stunning upset over Sylvester Stallone last year. At least Ali or Shannon will not have to worry about Bridges, who would easily take this award if not for his Best Actor Oscar win for "Crazy Heart" in 2010.
Best Actress nominees
Isabelle Huppert: "Elle"
Ruth Negga: "Loving"
Natalie Portman: "Jackie"
Emma Stone: "La La Land"
Meryl Streep: "Florence Foster Jenkins"
WILL WIN: Emma Stone. Stone gives one of the weaker performances out of the Best Actress group, but the fact that Academy voters identify with her actor character will push her over the top.
SHOULD WIN: Natalie Portman. Portman would be a shoo-in if not for the fact that she already won a Best Actress Oscar for "Black Swan" in 2011, and that second Oscar – especially as a lead character – is hard to come by.
Best Actor nominees
Casey Affleck: "Manchester by the Sea"
Andrew Garfield: "Hacksaw Ridge"
Ryan Gosling: "La La Land"
Viggo Mortensen: "Captain Fantastic"
Denzel Washington: "Fences"
WILL WIN: Casey Affleck. Affleck gives what is easily the most gut-wrenching performances of the year and has a boat-load of critic awards to prove it, but Washington's surprise SAG Award-win for "Fences" adds an interesting wrinkle to the competition. Ultimately, Washington will have to settle for the two Oscars he already has, since Oscar No. 3 for any actor – including Meryl Streep – is almost impossible to come by.
LINK:  See Tim Lammers' archived video and audio interviews, including Denzel Washington, Casey Affleck, Angelina Jolie, Morgan Freeman, Hugh Jackman, Francis Ford Coppola and more on  his new YouTube channel.
SHOULD WIN: Casey Affleck and Andrew Garfield. In a perfect world these two actors would tie. Affleck, for the aforementioned reason above, and Garfield for his stunning performance as Desmond Doss, the first conscientious objector to win a Congressional Medal of Honor.
"Arrival"
"Fences"
"Hacksaw Ridge"
"Hell or High Water"
"Hidden Figures"
"La La Land"
"Lion"
"Manchester by the Sea"
"Moonlight"
WILL WIN: "La La Land." Among the most over-rated movies of the year, "La La Land" doesn't deserve to even be a Best Picture nominee, much less a Best Picture winner. Still, with awards season momentum on its side, Damien Chazelle's colorful musical about the high and lows of the la-la-life of a struggling actress and jazz musician may be too tough for voters – especially those who have faced the same struggles – to resist.
Chazelle, who really deserved a pair of Oscars for "Whiplash" a couple years back, will also take Best Director after taking the DGA honor earlier this month.
SHOULD WIN: "Hacksaw Ridge." Any film nominated alongside it deserves the award more than "La La Land," but nothing more than "Hacksaw Ridge," the amazing true story of Desmond Doss, which has been buried in history for years. Director Mel Gibson's first directorial effort in 10 years starts off in grand fashion as a character drama and romance, before shifting into one of the most brutal war films ever to hit the big screen.
The end result of the film about Doss, a battle medic who single-handedly saved 75 soldiers in the Battle of Okinawa in World War II, is a riveting depiction of courage, selflessness and sacrifice. Gibson also deserves the Best Director Oscar, but an upset is unlikely.
Copyright 2017 DirectConversations.com.