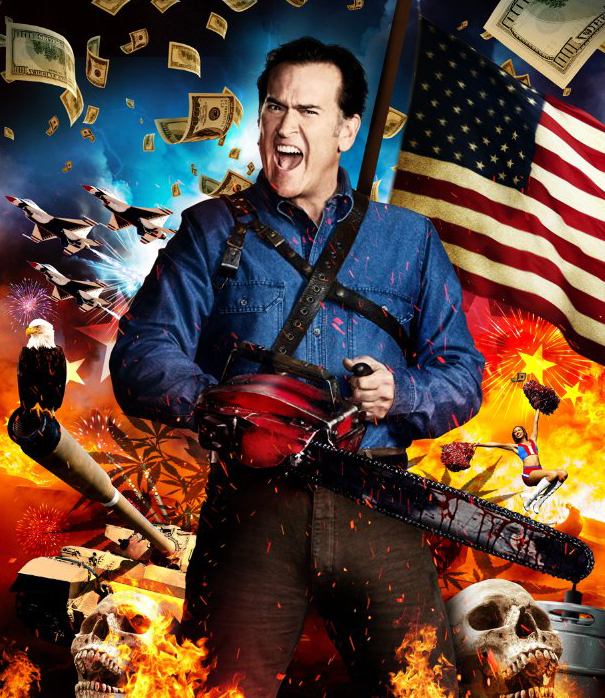 Back in the old days of the "Evil Dead" movies and "Army of Darkness," writer-director Sam Raimi used to take great pleasure in playfully torturing Bruce Campbell in any way possible, filming several exhaustive slapstick-infused scenes that would do the Three Stooges proud.
Of course, putting Campbell through the physical ringer wasn't enough, so Raimi would proceed to drench his longtime friend with gallons of fake blood, always striving for the most repugnant result possible.
Fast-forward to 2015, where Campbell decided it was time for his character, Ashley J. "Ash" Williams, to share in the glory gory. For his outrageously entertaining  STARZ series "Ash vs. Evil Dead," the groovy actor recruited a couple of sidekick deadite hunters, Pablo and Kelly (Ray Santiago and Dana DeLorenzo), and a ambiguous nemesis, Ruby (Lucy Lawless), effectively ending his days of being the only goop-drenched punching bag.
And as Santiago, DeLorenzo and Lawless found out, Season 1 was only the beginning.
"Wait until you see Season 2," Campbell teased in a recent phone conversation. "Pablo is going to have a really rough time, Kelly is going to be getting buckets of blood on her, and even the great Lucy Lawless is going to get slimed multiple times this season … nobody got off easy this year. I have a torn hamstring to prove it."
Fresh off the Blu-ray premiere of Season 1 (Anchor Bay Entertainment), Season 2 of "Ash vs. Evil Dead," which premieres Sunday on STARZ, finds Ash's dream life in Jacksonville, Florida, interrupted by a deadite attack. It seems the Book of the Dead is too much for Ruby to handle, and they need to travel to Ash's hometown of Elk Grove, Michigan, where Ash, Pablo and Kelly need to help get their enemy out of a hellish jam.
Also in Elk Grove is the newest "Ash vs. Evil Dead" cast member, Lee Majors, who plays Ash's dad. Like Raimi and Campbell — who were born in the same hospital in Royal Oak, Michigan — the "Six Million Dollar Man" and "Fall Guy" icon is a native of the Wolverine State. Campbell said he takes pride in his Midwestern upbringing and work ethic, and Majors recognizes that.
"Believe it or not I think that's why Lee Majors likes us," Campbell enthused. "Lee has a great work ethic, too, that's why he never leaves the set. He's one of those guys who says, 'I'm fine over here, just give me a chair.' He doesn't play any games. He was amazed that we (Campbell, Raimi and Rob Tapert) are still partners. It's coming up on 37 years after we did the first 'Evil Dead.' I'll walk into the office and there's Rob Tapert, same guy. It makes working a lot easier. These shows are really difficult to do, and it helps to look across the table and see the guy you've known for years and years."
Follow Tim Lammers on Twitter and Facebook
Needless to say, Campbell is thrilled that Majors is playing Ash's dad. It only takes a mere glimpse at the veteran actor in "Ash vs. Evil Dead" to see he's got the same square-jawed looks and "I don't give a damn" swagger of his chainsaw-wielding, boomstick-carrying son.
"He's absolutely perfect as Ash's dad," Campbell said. "He's an ass grabber. Bigot. Socially unacceptable. He's just perfect. He's the guy we wanted from the start."
Raimi, unfortunately, will not be directing any episodes for Season 2, Campbell said. Raimi, who went on to direct the Tobey Maguire "Spider-Man" trilogy, as well as such other hits as "A Simple Plan," "Drag Me to Hell" and "Oz the Great and Powerful," is instead staying behind-the-scenes as one of the show's creators and executive producers.
Campbell said he was just happy that Raimi was available to help the production kick the show off in style last year.
"We were lucky to get Sam for that. He came down off the mountain top to help us out, and now he has to go back on top of the mountain," Campbell said. "He's a big movie director and his schedule doesn't allow it, but he's a great voice from above and he's keeping his eye on the show, and that's what matters to us. Plus, he gave us the street cred. He directed the pilot and set the bar very high and the tone for the other directors. He was glad to be able to do that."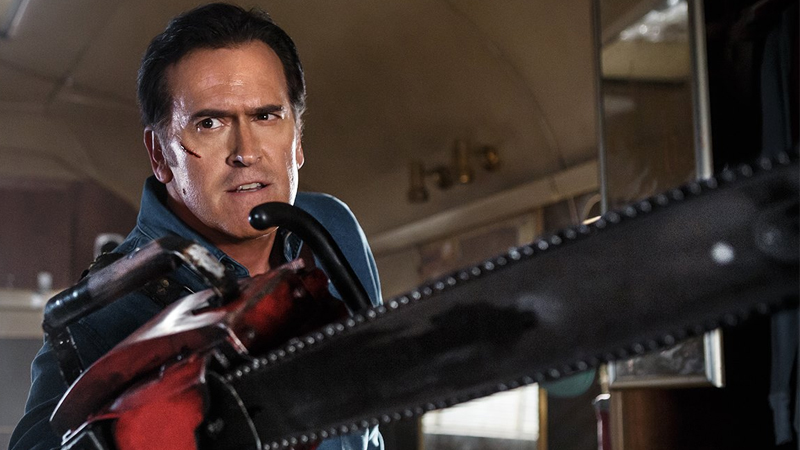 Not just for laughs
While "Ash vs. Evil Dead" has its share of high comedy, Campbell said the idea of scaring audience members is not lost on the production. Episode 1 of Season 2 is proof of that, as Ruby's evil spawn return — and they're all grown up.
"The one thing that we do serious on 'Evil Dead' and the one rule that we enforce is, 'Evil is scary. Evil is not funny,'" Campbell said. "Evil can be malicious, which is thereby secondary funny, but primarily, evil's main goal is to mess with your head and kill you slowly if they can."
MORE: Bruce Campbell talks Ash's presidential run
While Season 2 has yet to officially get underway, Campbell said he wants to be back in "Ash vs. Evil Dead," too, and not just for another season.
"I'm going for five. I'll take five seasons," Campbell said. "Five will give fans everything they need – pretty much the equivalent of multiple movies. That way, we can get all the character development out of it, and look, never say never — maybe we could turn around and go make another ('Evil Dead') movie. Success begets success. I have a bold theory that Season 2 is where this show is going to stick. I'm lobbying STARZ for Season 3 and 4 pickup to give the fans a vote of confidence so they can know that there will be a stream of shows coming. We've got your back. We're going to give you what you demanded."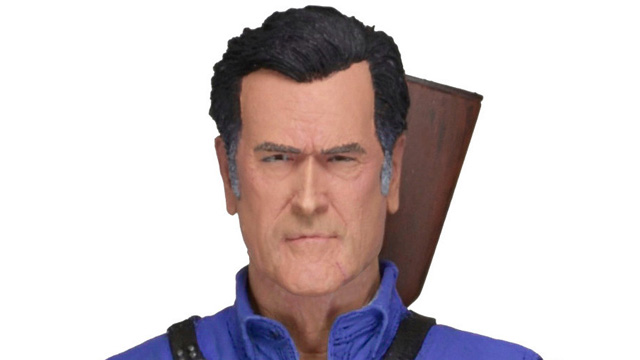 One good sign that there's a big enough fan base is the demand for merchandise tied into the show. New Jersey-based collectibles company NECA is getting ready to release "Ash vs. Evil Dead" 7-inch action figures — including Hero Ash, Value Stop Ash, and the evil entity Eligos – and Campbell couldn't be more thrilled. In the past, the company has produced other "Evil Dead" merchandise, and also has a 7-inch "Ultimate Ash" on the way.
"People still like stuff to hold in their hands in this digital age," Campbell said. "They like something they can shove on my tables at conventions and say, 'Sign my Ash figure.' I've signed a lot of myself."