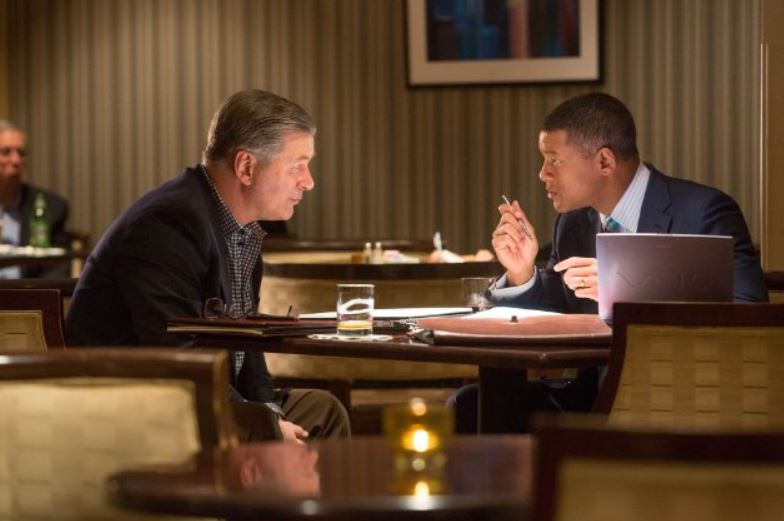 "Concussion" (PG-13) 3 1/2 stars (out of four)
Will Smith's career is back in focus with "Concussion," the compelling true story of revered pathologist Dr. Bennet Omalu (Smith) and his earth-shattering discovery that connected severe brain damage – diagnosed and termed as chronic traumatic enchepolapthy (CTE) – to repeated concussions in NFL players. Based in Pittsburgh, Omalu first made the correlation after the untimely death of Pittsburgh Steelers Hall of Fame center Mike Webster (a barely recognizable David Morse), and the subsequent deaths of other NFL players.
Not surprisingly, NFL officials don't want to confront the issue, and do their best to discredit Omalu and his colleagues to protect its vast business interests. The supporting cast is stellar, including strong performances by Albert Brooks as famed pathologist Dr. Cyril Wecht and Alec Baldwin as former Steelers team physician Dr. Julian Bailes – who helped Omalu convince the NFL of the problem. Save a horribly miscast Luke Wilson as current NFL commissioner Roger Goodell, "Concussion" is a riveting, must-see movie whether you're a fan of the NFL or not.
"The Big Short" (R) 3 1/2 stars (out of four)
Director Adam McKay impressively steps away from his normal world of Will Ferrell comedy fare and channels the filmmaking expertise of Martin Scorsese in the process with "The Big Short" – a searing portrait of four groups of Wall Street outsiders who envisioned the burst of the housing bubble in 2008 and tried to stick it to the big banks in the process.
In their turns as the outsiders, Christian Bale, Brad Pitt and Ryan Gosling are at their best, and Steve Carell continues to impress in yet another stunning dramatic turn on the heels of his Oscar-nominated role in "Foxcatcher" last year. Moving at breakneck pace throughout, "The Big Short" contains lots of complex Wall Street jargon, but McKay creatively works in star cameos to break things down in layman's terms. The film, while entertaining in the way it is presented, is infuriating at the same time.
"Daddy's Home" (PG-13) 3 stars out of four
Will Ferrell and Mark Wahlberg reteam after the hilarious romp "The Other Guys" with "Daddy's Home," a wonderfully sweet comedy about a doting yet hapless step-father (Ferrell) who must deal with the return of the children's far cooler biological dad (Wahlberg). We've seen both actors play these sorts of roles before, but familiarity aside, there's no question the pairing works wonders here as the two dads engage in a nasty game of one-upsmanship to win the affection of the kids and their mother. "Daddy's Home" is far from perfect, but it's an enjoyable movie nonetheless.