Agree or disagree, here's this year's Top 10 list — wedging in 14 of the best movies on the big screen in 2014. See you at the movies in 2015.
10. "The Box Trolls"/"The Lego Movie" — "The Boxtrolls" proves why stop-motion is still the best of all forms of animation, and "The Lego Movie," a computer-animated film that mimics the under-appreciated art form, proves why we need more.
9. "Unbroken"/"Fury" — Directors Angelina Jolie and David Ayer shine proper lights on the unsung heroes of World War II: POW survivor Louie Zamperini in "Unbroken," and a Sherman tank crew forced to do horrific things in order to survive in "Fury." What Jolie lacks in context of Zamperini's sufferings in the PG-13 "Unbroken" is more than made up for in brutally realistic R-rated "Fury," starring, oddly enough, Jolie's husband Brad Pitt.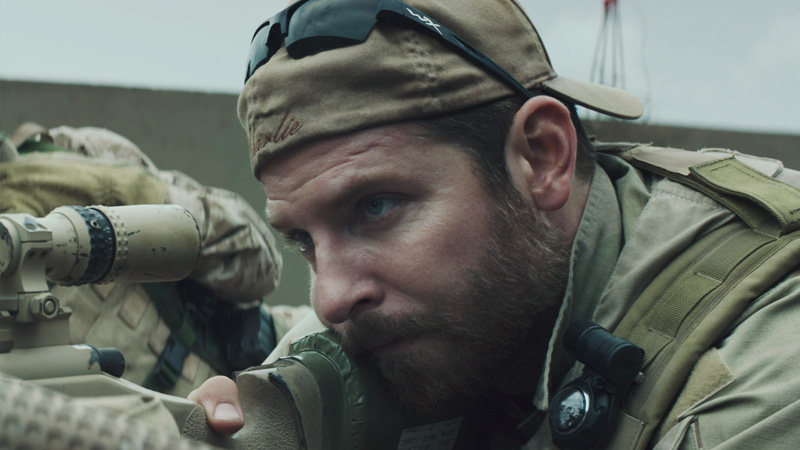 8. "The Imitation Game"/"Big Eyes" — The amazing tale of Alan Turing (Benedict Cumberbatch) is told on two levels: One about Turing the  genius mathematician who invents a pre-cursor to the computer to help the British break German's Enigma code during World War II; and second Turing as gay man in a time where homosexuality was outlawed in the U.K. Since his covert efforts with Britain's MI: 6 technically didn't exist, not even saving millions of lives couldn't prevent the persecution of one life – Turning's own. "Big Eyes," meanwhile, tells another true story about secrets – this one set in pop art scene of the 1950s and '60s – through the unique cinematic brushstrokes of canvas and film artist Tim Burton.
7. "Captain America: The Winter Soldier"/"X-Men: Days of Future Past" — While the wonderfully funny and action-packed "Guardians of the Galaxy" marked a departure to the light side for Marvel Studios, the latest film in "The Avengers" superhero saga daringly ventured down the complete opposite path with a '70s political thriller twist, to boot. Though technically not a Marvel Studios property, "Days of Future Past" and star Hugh Jackman did its Marvel Comics roots justice by righting some wrongs from previous films in the "X-Men" series.
6. "St. Vincent" — Bill Murray is at his best in the feel-good movie of the year as a ne'er do-well with a heart of gold and chamber of heartbreaking secrets. Melissa McCarthy, Naomi Watts, Chris O'Dowd and newcomer Jaeden Lieberher complete the joyous halo that encircles Murray in "St. Vincent," a dramedy that's every bit as poignant as it is funny.
5. "Gone Girl" – Director David Fincher is at the top of his game in Gillian Flynn's complex crime thriller, expertly adapted by the screenwriter from her own best-selling novel. Featuring one of the best ensemble casts of the year (including Ben Affleck, Carrie Coon, Kim Dickens, Tyler Perry, Neil Patrick Harris, Missi Pyle and Sela Ward), "Gone Girl" is taken to a whole new level by former Bond girl Rosamund Pike in what's easily the best female lead performance of the year.
4. "Dawn of the Planet of the Apes" – Director Matt Reeves pulls off the impossible by topping "Dawn's" predecessor, "Rise of the Planet of the Apes" – a brilliant reboot of a classic film series. The apes continue to evolve in "Dawn," and so does the story and Andy Serkis' motion capture acting. Awards voters better soon get with the program and accept what Serkis does as a legitimate form of acting.
3. "Birdman" – Michael Keaton gives a career performance as a struggling big-screen superhero trying to reinvent himself on Broadway in "Birdman," the most inventively staged film of the year. The only reason this film works is because of Keaton, who will no doubt enjoy a career renaissance with an Oscar nomination (if not a win) in his future. Of course, it helps to have Edward Norton in your cast, who is as brilliant as ever in a crucial supporting role.
2. "Whiplash" – J.K. Simmons gives the one of the best performances of the year as a conniving, vitriolic jazz conservatory instructor who uses mental abuse in an effort to try to bring out the best in his students – specifically an immensely talented but emotionally fragile drummer (Miles Teller). Simmons is so explosive in "Whiplash" that he makes Louis Gossett Jr. in "An Officer and a Gentleman" feel like a pre-school teacher.
1. "American Sniper" – Director Clint Eastwood places you in the thick of the battle in the Iraq war while Bradley Cooper puts you in Chris Kyle's conflicted mind in this brutally honest portrayal of the most lethal sniper in the American military. Sienna Miller is also heartbreaking at Kyle's wife, Taya, a woman suffering the residual effects war has on families. To say the film is riveting is an huge understatement, especially given the tragic fate that awaits Kyle as he finally finds his peace and tries to help other veterans adjust to life on the home front.
Most over-rated movie of the year: "Boyhood" — It's a clever idea no doubt, filming a child's life over a 12-year period and there's no deny the effort and planning director Richard Linklater put into the project, but ultimately, "Boyhood" feels like a gimmick because of a mostly uneventful story. Perhaps critics were ultimately more fascinated with the idea of making a movie over 12-year period than the film itself. Besides, haven't we seen characters grow up on screen before with the films in the "Harry Potter" saga?
Worst movie of the year: "Inherent Vice" — The film's top-shelf talent is completely wasted by Paul Thomas Anderson's pretentious writing and direction, and a nonsensical script that's virtually impossible to grasp. Don't pay attention to the film snobs who pretend to understand what's going on in this bloated heap of "I'm smarter than you are" filmmaking, because they really don't. Dreadful and disappointing, this movie should have been called "Incoherent Vice."