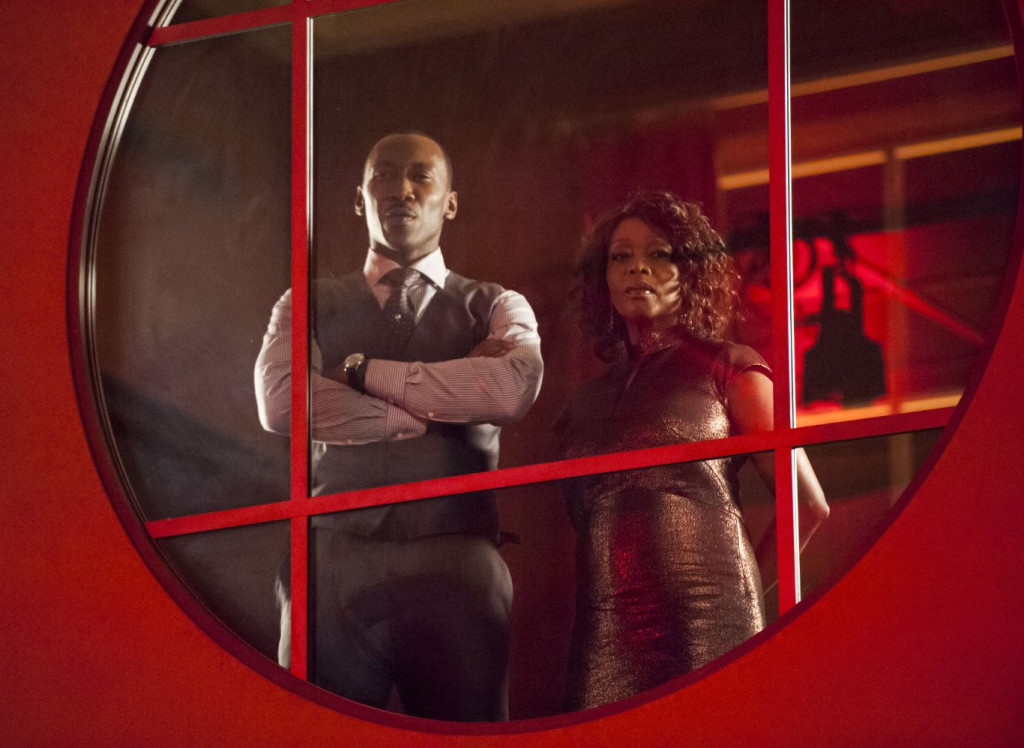 Mahershala Ali and Alfre Woodard in "Luke Cage" (photo: Netflix)
It's been an eventful year for Oscar-nominated actress Alfre Woodard, who had the rare opportunity to act in not one, but two different projects in the Marvel Universe. After making a brief but pivotal appearance opposite her longtime friend Robert Downey Jr. in the summer blockbuster feature "Captain America: Civil War," Woodard is now playing a major role in the new Netflix superhero drama "Luke Cage."
Woodard said the common denominator in the superhero projects was the novel idea of story first, then visual effects. Having characters with  superhuman abilities is all well and good, Woodard said, yet those abilities are less likely to enthrall a viewer unless there's substance there.
"You can have all the special effects in the world and pour hundreds of millions of dollars into them, but so many times people walk out of these films and say, 'Of all the execs involved, didn't anybody read the script?'" Woodard said in a recent phone conversation from Los Angeles. "No matter how much technology we have, it comes down to the stories and storytellers."
Now streaming on Netflix, "Luke Cage" is based on the indestructible Marvel Comics character who debuted in print in 1972. Having first made an appearance in Marvel's New York City-set Netflix series "Jessica Jones" last year, Luke Cage (Mike Colter) returns in this new series to his Harlem roots to hopefully blend into the background and keep his superhuman strength and impenetrable skin a secret.
But when a vicious club owner, Cornell Stokes (Mahershala Ali), and his cousin, Councilwoman Mariah Dillard (Woodard), start wreaking havoc in the neighborhood, Luke has no choice but to emerge from the shadows to protect the innocent people they are targeting.
Woodard chalks the success of "Luke Cage" up to the show's creator and showrunner, Cheo Hodari Coker, who studied journalism at Stanford — background Woodard believes helps inform the look and feel of the series.
"Cheo's an amazing man. He understands, appreciates and revels in the culture and the history of Harlem," Woodard said. "He's also a hip-hop aficionado. He's the first journalist to realize that hip-hop was not just a passing phase and would be a successful world culture for generations. He brings all that creative intelligence to telling the stories to 'Luke Cage.' That's why I signed on, and I have not been disappointed any step of the way."
Playing Mariah over the course of several episodes instead of in a movie is a dream for Woodard, who thrives on developing a character over a longer period of time rather than trying to squeeze everything about her into a two-hour frame. On the whole, Woodard, 63, doesn't think Mariah should be flat-out labeled as a corrupt politician, but just a person who happens to be a councilwoman with ambitions — albeit ambitions she's been blinded by.
"It's not just politicians who are like this. The role is not about how much we are willing to sink (to get things done), but how much we're willing to wager to do what we think is right or helpful," Woodard said.
Also new on Direct Conversations.com — Interview: Tim Burton, "Miss Peregrine's Home for Peculiar Children"
Ultimately, Woodard said, Mariah is far from being a one-note villain.
"I love Mariah because I think she is very complex, as we all are, and I love being able to play somebody that we all run into in real life. She has all the cuts and bruises, yet she has a sunny side," Woodard said. "As an actor, I love that. I feel like she's a real human being. In this case, people may feel like, 'I can identify with them' until the character's life takes a dramatic turn and then go, 'Oh, my God. I couldn't go all the way there.'
"But that's why we tell stories," Woodard added. "To entertain, yes, but also to have audiences reflect and imagine themselves in these situations."