While Denise Di Novi has been an influential producer since the early 1990s with such films as Tim Burton's "Batman Returns" and "A Nightmare Before Christmas" — and more recently with "Crazy Stupid Love" and "Focus" — she's never really had the desire to direct. Intent on raising her two children, the filmmaker said in a recent phone conversation from Los Angeles said that producing gave her "a lot more flexibility" with her family life.
Ironically, Di Novi said, it's a family dynamic that powers the dramatic thriller "Unforgettable," which marks Di Novi's directorial debut. Written by Christina Hodson, "Unforgettable" follows Tessa (Katherine Heigl), the devastated ex-wife of David (Geoff Stults), who after the end of their marriage finds love with Julia (Rosario Dawson). Complicating matters is the bond Julia forms with Tessa and David's 6-year-old daughter, Lily (Isabella Kai Rice), pushing Tessa to get Julia out of David's life at any cost.
With such of a female-driven narrative, Di Novi said the timing was perfect for her to transition from producer to the director's role for the first time.
"For Katherine's character, there are definite emotions that come up when she sees her child being mothered by another woman and the husband she's still in love with being happier with that other woman," Di Novi said. "How do you deal as second wife with a first wife who's clearly unstable? These are tough things that people deal with and I loved that they were written from the female perspective.
Opening in theaters nationwide on Friday, "Unforgettable" also stars acclaimed actor Cheryl Ladd as Tessa's mother, Helen. While Tessa and Julia are at the center of the conflict in "Unforgettable," Helen is pivotal to the plot in that she's effectively responsible for her daughter's irrational behavior.
"She thinks she's a wonderful mother who loves her daughter dearly, and her heart is so closed off because she's lived this closed off perfectionism her whole life," Ladd said in a separate phone conversation from Los Angeles. "She's trying desperately to save and help her daughter, and she doesn't realize how painful the things she says are to her daughter and not helpful. She has no idea, though. She thinks she's being a wonderful mother, but she's criticizing her daughter so much and it's just like she's throwing bricks at her. Plus, she's working on her granddaughter, too, trying to make her the same way."
LINK: See Tim Lammers' archived video and audio interviews, including Denzel Washington, Casey Affleck, Angelina Jolie, Morgan Freeman, Hugh Jackman, Francis Ford Coppola and more on his new YouTube channel.
Ladd feels that whether people want to admit it or not, they're going to find Tessa, Julia and Helen relatable in "Unforgettable." If you're not or once were one of these characters in real life, you certainly know one or all of them.
"Some people really have a difficult time keeping it together under that mountain of pain and disappointment, and that mountain of insecurity," Ladd observed. "For some people, they just snap and they just lose it."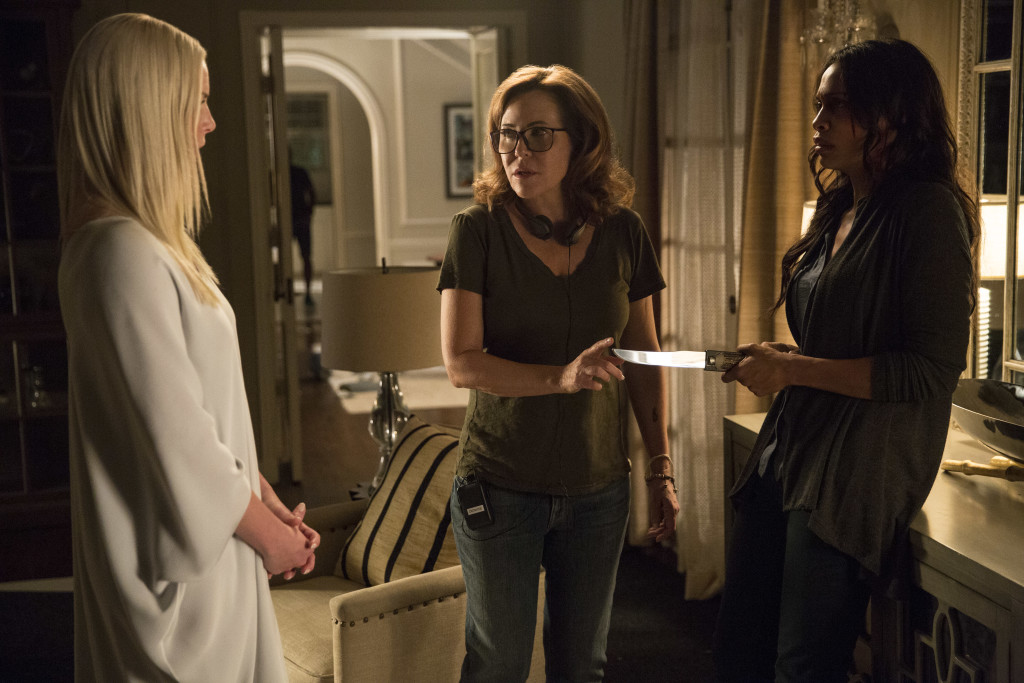 Katherine Heigl, Denise Di Novi and Rosario Dawson on the set of "Unforgettable."
And if moviegoers are in denial that they're one of these characters, Ladd hopes that "Unforgettable" will wake them up to the truth.
It's such of a woman's story, with all of the walls we put up and the image we try to project, and in the meantime are hiding our feelings, our vulnerability and things that bring us pain, because we have to buck up and get on with it," Ladd said. "When you're raised to just swallow your feelings and do the right thing at every turn and not misstep, it's very difficult when life hands you disappointments or you make a bad decision — and you don't even know how to start coping with the bad decision you made."
Di Novi said casting the role of Helen was difficult because they wanted to find someone "as flawlessly put together as Tessa." And while Di Novi found exactly what she was she was looking for with Ladd, she was slight hesitant because the "Charlie's Angels" icon's kind demeanor in real life is she's the exact opposite of Helen.
"Cheryl is so sweet and gracious, I wondered if she could be this cold, uptight character," Di Novi said.
Ladd, however, is thrilled Di Novi went with her gut and cast her because the idea of taking on such a cold and calculated character is why she loves acting so much.
"That's why I was interested in doing the character," Ladd said. "The nice thing about getting older and having a long career is when things come up, I can say 'No,' and if it's something I feel that I'd really like to tackle, I say, 'Yes.' It's a nice place to be, and I'm just finding that the characters at this age are deeper, wider, interesting and more challenging, and I love it."
Ladd said that she couldn't have been any happier working with Di Novi on "Unforgettable," not just for what she did for her character, but for every character in the film.
Look at the picture Denise made. There's not one false step from a character," Ladd said. "Each character is so deeply real and deeply relatable in how they go about their lives and the hiding of their feelings. Everything comes from real truths from within these women, and that's why I think it's even more scary and relatable because you sense they're real. It's got it all I think Denise is going to be directing a lot of movies and I hope I get to be in some of them because she's wonderful and so talented, and really knows how to tell a story from beginning to end."
Copyright 2017 DirectConversations.com.