"The 15:17 to Paris" (PG-13)
If you go to director Clint Eastwood's compelling new true-life drama "The 15:17 to Paris" to focus on the acting, you're missing the point. Spencer Stone, Alek Skarlatos and Anthony Sadler are not professional actors,  they're re-enactors of the biggest story of their lives.  They were brought aboard the film by Eastwood to give its audience the only true perspective of what went into the trio of lifelong friends' daring move to take down an ISIS terrorist armed with rifles and 300 rounds of ammunition to kill as many innocent people as possible on a passenger train bound for Paris in August 2015. Even if Eastwood would have cast the best actors in the business to play Stone, Skarlatos and Sadler, "The 15:17 to Paris" wouldn't have had nearly as much impact.
The focal point of "The 15:17 to Paris," naturally, is how the trio thwarted the terrorist attack, as Stone selflessly charged toward the gunman with a weapon pointed at him, a move that would have certainly been the Air Force member's last if not for the fact that the terrorist's weapon malfunctioned. As Stone desperately tried to subdue the terrorist, Army National Guard Specialist Skarlatos and Sadler jumped in and attempted to beat the would-be killer into submission until Stone choked him out. Perhaps even more amazing, Stone, who was slashed and nearly had his left thumb cut off by the terrorist, ignored his wounds as he attended to a shooting victim with blood gushing from his neck.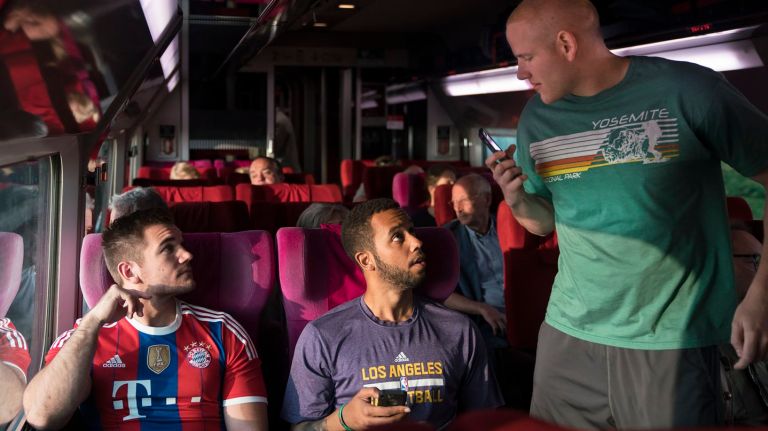 Unfolding in the same natural way Eastwood's harrowing true-life tale "Sully" did in 2016, Eastwood gives context to "The 15:17 to Paris," first by examining how the three friends came to be as middle schoolers in Sacramento, California. Separated by different circumstance soon thereafter, their friendship endured, and the action picks up again as Stone joins the Air Force, Skarlatos enlists in the Army, and Sadler — never showing any interest in the military –sits it out but supports his best friends.
While "The 15:17 to Paris" is far from Eastwood's best directorial effort, the film still shows how phenomenal of a filmmaker he truly is. Yes, the scene where the trio takes down the ISIS terrorist is masterfully done, but where Eastwood truly excels is finding a profound meaning in the trio's back story. Stone, Skarlatos and Sadler were all bullied and were outcasts, and while they didn't fit in at their school, they still found each other. If not for that fortuitous friendship and establishment of a solid foundation that guided them throughout their turbulent young lives, their destiny to save as many of 500 people on August 21, 2015, simply never would have been realized. For that reason alone, all those involved in "The 15:17 to Paris" deserves our full salute.
Lammometer: 8 (out of 10)
Tim Lammers reviews movies weekly for The KQ92 Morning Show," "KARE 11 News at 11" (NBC), "The Tom Barnard Podcast" and "The BS Show" with Bob Sansevere.
Copyright 2017 DirectConversations.com