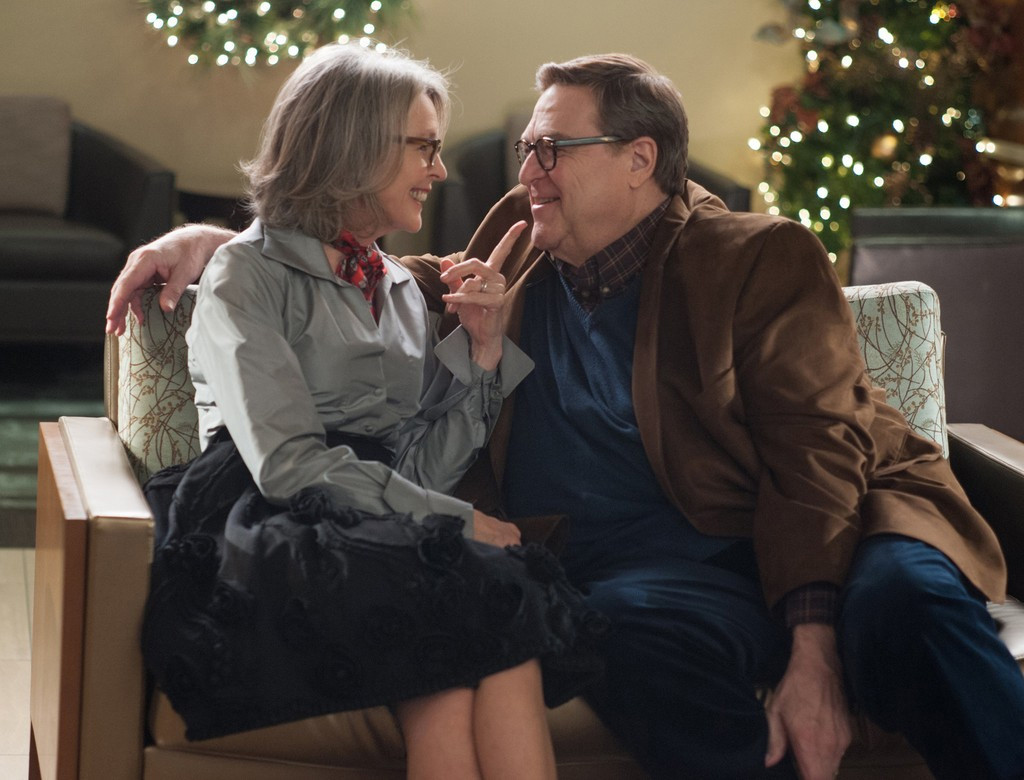 "Love the Coopers" (PG-13) 3 stars (out of four)
If you're looking to get into the Christmas spirit early you should at the very least like "Love the Coopers," a dysfunctional family comedy that avoids the trappings of the genre as it winds down to a predictable yet very sweet conclusion.
Diane Keaton and John Goodman star as Charlotte and Sam Cooper, whose marriage has soured after 40 years together. Wanting to gather their family together for one last Christmas before they split, the Coopers struggle to hold it together as their children and extended family each make their respective treks to the family household.
"Love the Coopers" plays out in five individual stories before the family gathering, as we follow the complicated lives of Cooper children Hank (Ed Helms) and Eleanor (Olivia Wilde), grandpa Bucky (Alan Arkin), Charlotte's sister, Emma (Marisa Tomei), and of course, Charlotte and Sam.
Hank is going through a divorce and is in search of a job, while Eleanor has a mess of a love life until she meets a soldier (Jake Lacy) on leave. Bucky, a lonesome widower, is distraught that his good friend, Ruby (Amanda Seyfried) is moving away; while Emma struggles to come to terms with her longtime sibling rivalry with Charlotte. Also involved wrapped up in the family trials are a taciturn police officer (Anthony Mackie), an eccentric aunt (June Squibb) and Hank's estranged wife (Alex Borstein) and their lovelorn teenage son, Charlie (Timothee Chalamet).
"Love the Coopers" feels like a number of different films, from "Home for the Holidays" to "A Christmas Story," because the story is aided with a wise, introspective narration. It also feels a lot like "Love, Actually," because it starts out with separate stories that eventually intertwine.
Despite its shortcomings, "Love the Coopers" works because it could have easily gone the way of a screwball comedy, yet instead relies on its gifted cast's talents as actors whom possess natural gifts for both drama and comedy. It has a surprising blend of humor and poignancy, all while telling us a story we all know too well: Families are complicated. But since the Coopers are loaded with family members you can relate to, don't be surprised if you leave the film with a big smile on your face.
"Spotlight" (R) 3 1/2 stars (out of four)
Michael Keaton, Mark Ruffalo and Rachel McAdams head up an all-star cast in writer-director Thomas McCarthy's "Spotlight," a compelling film about the Boston Globe's Spotlight team's investigation into the Boston Archdiocese child sex abuse scandal – a report that led to a falling out in the Catholic Church and exposure of hundreds more scandals in parishes nationwide.
Set largely in 2001 – in the days before the Wild West journalism of the Internet (and a sad reminder of how investigative journalism is currently on life support) – "Spotlight" follows editor Walter "Robby" Robinson (Michael Keaton), reporters Michael Rezendes (Ruffalo), Sacha Pfeiffer (McAdams) and Matt Carroll (Brian d'Arcy James) as the team digs into allegations of child molestation against defrocked priest John Geoghan. As it turns out, Geoghan is only the tip of a very large iceberg, leading the reporters to groundbreaking investigation into the Catholic Church's cover-ups of child sex abuse by defrocked, and in some cases, reassigned, priests.
"Spotlight" runs the gamut of emotions. You'll feel sadness hearing the tragic revelations of abuse survivors in interviews conducted by reporters; and anger when you see the thinly-veiled threats by the church's powerful supporters as Spotlight is urged to back off its investigation. There's also frustration as journalists desperately try to get sensitive court documents unsealed, and disbelief as the reporters uncover a coded system in the church's records to detect how priests accused of abuse were dealt with in a very large and convoluted system.
In the end, "Spotlight" is a very difficult film to watch, but an important film to watch nonetheless. It's easily one of the best films of the year.