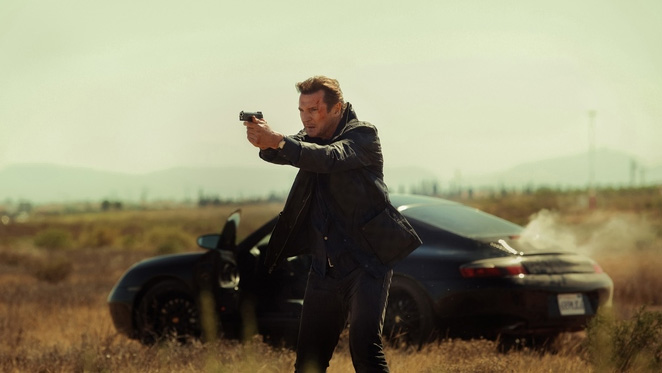 "Taken 3" (PG-13) 2 stars (out of four)
It Ends Here, the tagline on the poster for "Taken 3" promises — and thank God.
"Taken 3," presumably the last in Liam Neeson's "Taken" saga that arrived with a bang in 2008, is the perfect example of an unnecessary sequel in a franchise being milked for all it's worth. The first film – about Neeson's daughter (Maggie Grace) being kidnapped by sex traffickers – was a spectacular action thriller; and its 2012 follow-up, where Neeson and his ex-wife (Famke Janssen) were taken as a revenge for his actions in the original, was average at best.
The newest installment doesn't fare any better. At least no one is taken in it, which would have been an utterly ridiculous. Instead, it's a chase movie and revenge thriller that isn't any better or worse than any other films in the action genre. The big benefit here is the brand recognition and a likeable trio of leads with Neeson, Janssen and Grace, and the addition of the always great Forest Whitaker as detective who pursues Bryan Mills (Neeson) throughout the film.
The trailer and the TV spots pretty much let the cat out of the bag as far as the driving element of the plot is concerned: Ex-CIA operative Mills' (Neeson) wife, Lenore (Janssen), is murdered, and Mills is framed for it. Wanted by the CIA, the FBI and the Los Angeles Police Department, Mills puts his "particular set of skills" to work to elude the authorities and find the real killers.
Interview: Famke Janssen talks "Taken 3"
From there, "Taken 3" goes on auto-pilot, employing the same sort of high-kinetic action and adventure that juiced up the prior two films in the trilogy. Stocked with Russian bad guys who are after Lenore's suspicious husband (Dougray Scott), "Taken 3" has one semi-clever plot twist, but in the end, it just feels like a boring retread of umpteen films we've seen before.
If you don't want to be, well, taken, for a lackluster ride, do yourself a favor and watch the original again, or check out Neeson's under-rated detective thriller "A Walk Among the Tombstones" from earlier this year. Neeson is still one of the most charismatic actors out there, and with the right material, his "particular set of skills" work quite well.
Reviewed in brief:
"Selma" (PG-13)  3 stars (out of four)
It's about time that the story of Martin Luther King Jr.'s voting rights march in 1965 from Selma to Montgomery, Alabama, be told on the big screen – and it's a big shame the film is being mired in controversy.
"Selma," director Ava Duvernay's unflinching depiction of the brutality marchers sustained in 1965, presents a huge quandary. On one hand, it's an expertly-directed film that features brilliant performances by David Oyelowo and Carmen Ejogo as Martin Luther King, Jr. and Coretta Scott King, respectively; but on the flip side, former aides, historians and even one King's associates are crying foul over the portrayal of President Lyndon B. Johnson (Tom Wilkenson) — who comes off as more of an obstructionist in the events leading up to the voting rights act than a partner in the efforts.
Minus the objectionable material, the bulk of "Selma" remains an important and necessary film for our times. Having said that, Hollywood still needs to be held accountable for the leeway filmmakers take when bending historical fact for the sake of creating drama on the big screen.
"Inherent Vice" (R)  3 stars (out of four)
Joaquin Phoenix stars in what is easily the biggest disappointment – and worst film – of last year.
The film's top-shelf talent, which also includes Josh Brolin, is completely wasted by Paul Thomas Anderson's pretentious direction, and a nonsensical script that's virtually impossible to grasp.
Dreadful and plodding, this movie should have been called "Incoherent Vice."
Tim Lammers is a veteran entertainment reporter and a member of the Broadcast Film Critics Association, and annually votes on the Critics Choice Movie Awards. Locally, he reviews films for "KARE 11 News at 11" and various Minnesota radio stations.