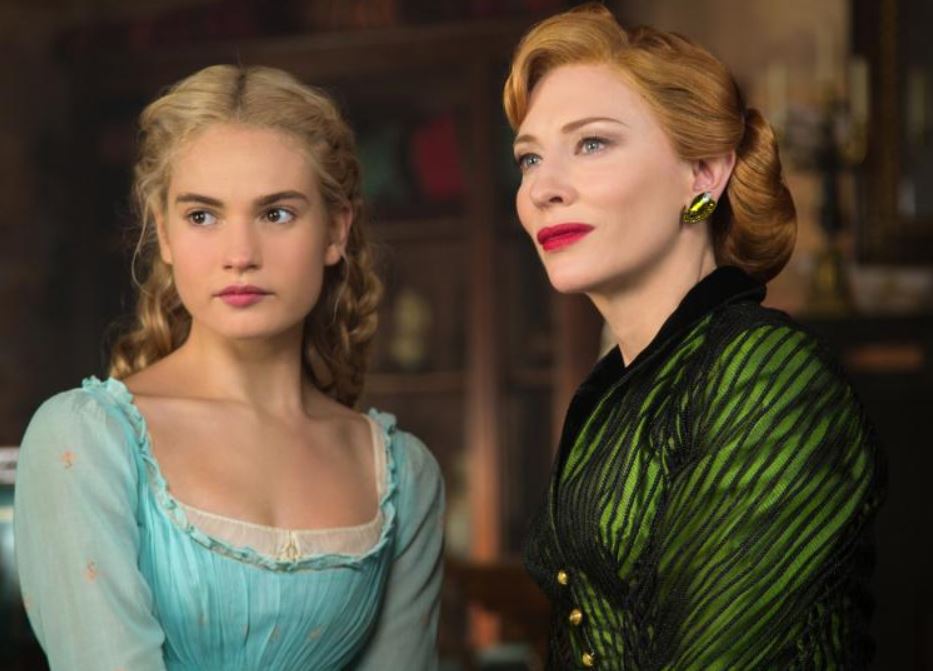 "Cinderella" (PG) 4 stars (out of four)
Filmmaker Kenneth Branagh masterfully directs an instant classic with "Cinderella," Walt Disney Pictures' latest animated great-turned live-action fairy tale. Preceded by the 2010 blockbuster "Alice in Wonderland" and the 2014  summer hit "Maleficent" (the "Sleeping Beauty" tale told from the villainess' point-of-view), "Cinderella" emerges as the best of the three re-imagined tales so far – mainly by  sticking with the narrative fairy tale fans know and love while making subtle yet strong changes where it counts the most.
Lily James stars as Ella, who as a child loses her mother (Hayley Atwell) and gains a cruel stepmother (the deliciously evil Cate Blanchett) and two stepsisters (Holliday Grainger and Sophie McShera) when her father (Ben Chaplin) remarries. Trapped as a servant to her stepmother and stepsisters after her father dies, Ella – who is dubbed "Cinderella" by one of the stepsisters – sees a glimmer of hope through a chance meeting with the handsome Kit (Richard Madden), who keeps secret from the young woman that he's really a prince who will soon inherit a kingdom.
Interview: Helena Bonham Carter (U.S. exclusive)
"Cinderella" works on every level, from using real landscape complimented by lavish castle set pieces and costumes; to stellar acting, a mystical atmosphere, Patrick Doyle's moving score and the perfect mix of humor and heart.
The movie is also very emotional, especially in times of loss, but not necessarily depressing. It effectively helps build the character of Cinderella, who while taught by her dying mother to "have courage and be kind" – shuttering the damsel in the distress characterization from earlier interpretations of the tale.  Cinderella is now a strong and independent young woman who is an equal, essentially, to the prince, even while their social status couldn't be any further apart.
Naturally, "Cinderella" wouldn't be "Cinderella" with all of its classic elements: there's the pumpkin that turns into the carriage, the mice that transform into horses and of course, the iconic glass slippers; but even those elements feel fresh and vibrant thanks to the wondrous performance of Helena Bonham Carter as Cinderella's Fairy Godmother.
And while Bonham Carter is only in the film for about 10 minutes (first, as an unrecognizable beggar lady who tests Cinderella's will to be kind, only to transform into the giddy, Bibbidi-Bobbidi white-gowned magician who creates the girl's transportation to the beautifully staged Castle Ball) – she makes the most out of every second she's on-screen. Thankfully, Branagh puts his talented star to good use by making her the narrator of the film, and even has her sing the iconic song "Bibbidi-Bobbidi-Boo" during the end credits.
Despite the smattering of talent that surrounds her, James' glowing performance as Cinderella helps the "Downtown Abbey" star carry the film with relative ease on her delicate shoulders. She's the perfect choice to play the time-honored character with a sweet smile, an air of innocence and steady charisma and charm that makes you root for her from start to finish. True, we all know how the tale ends, but what an exciting, freshly mowed path through the gorgeous forestland "Cinderella" takes us on to get there. It's a brilliant movie suited for girls and boys, and women and men of all ages.
Playing before "Cinderella" is the new "Frozen" short film "Frozen Fever," a delightful seven-minute tale about a sniffling Elsa (voice of Idina Menzel), who's trying to arrange a birthday party for her sister, Anna (Kristen Bell) despite a nasty cold. Elsa's under-the-weather for the entire short, but her condition helps produce clever additions to the world of "Frozen" and the loveable goofball snowman Olaf (Josh Gad).
Most importantly, parents may find their children letting go of the Oscar-winning "Frozen" song "Let it Go," as "Frozen Fever" debuts a memorable new song, "Making Today a Perfect Day." It's a perfect song for a perfect mini-sequel of sorts, since it takes place after the events of the first film.
"Run All Night" (R) 3 stars (out of four)
Liam Neeson is back with a particular set of skills – although time does appear to be catching up with him, finally – with "Run All Night," a gritty, fast-paced crime thriller that boasts a terrific cast to help the film rise above its convoluted storyline.
Neeson stars as Jimmy Conlon, a broken-down former hit man for his longtime friend/powerful New York City mob boss Sean Maguire (Ed Harris). In an unfortunate set of circumstances, Jimmy shoots and kills Sean's only son, Danny (Boyd Holbrook) who was a hair-trigger away from his shooting Jimmy's son, Mike (Joel Kinnaman), for witnessing a murder.
Despite their long history together, Sean orders a hit on Mike so Jimmy can suffer the same pain of losing a child. But Jimmy's not going to give in easy, and devises a plan to stay on the run throughout the night with his estranged son, in an effort to try to make things right with his former crime confidant.
Neeson seems only to be playing a variation of the "Taken"-like character that's dominated the action crime genre in the past few years, and it appears now that he's just on this side of being unbelievable. Neeson's a big man at 6 feet 4 inches and is no doubt fit for a man of 62, but given the physical and mental toll his life of crime has taken on him (he's executed dozens of people, with some of the hits closer to home than he'd like to remember), and it's a wonder how he disarms and beats people (or shoots them with skilled precision) for a guy who walks with a limp and was falling-down drunk just hours before.
Harris, meanwhile, is chilling as the ruthless crime boss, while Kinnaman – who rose to prominence in the brilliant AMC-turned-Netflix-series "The Killing," is excellent as the moral compass of the film. He's about the only main character that you can root for, given Jimmy's and Sean's menacing pasts. Vincent D'Onofrio also shines as the film's only straight cop in a city otherwise owned by Sean's power, while Common is wicked as a hit man hired to complete the job that his crew can't seem to get done.
In the end, fans of shoot 'em ups with high body counts will no doubt be satisfied by "Run All Night," despite the film's obvious faults. And while "Run All Night" leaves more to be desired, it's at least a major improvement over Neeson's lackluster third film in the "Taken" franchise.