Click audio player to hear Tim's review of "Arrival" on "The KQ Morning Show" with Tom Barnard.
"Arrival" (PG-13)
The space alien genre gets a seemingly new twist in "Arrival," a thinking person's sci-fi thriller that ultimately is more about questions of humanity than it is the otherworldly beings that initiate first contact.  But while "Arrival"  feels fresh in comparison to several alien thrillers recent years – it's about aliens that invade, but don't attack – it ultimately comes off like a smattering of similar films.
In fact, it doesn't take long to realize the touchstones of "Arrival" seem to borrow from the plot points of "District 9" (which features hovering ships), "Gravity" (about a protagonist dealing with loss), "Contact" (about a scientist decoding alien messages), "The Day the Earth Stood Still" (about aliens warnings to Earthlings) and "Interstellar" (about the transcendence of space and time).
That's not to say that "Arrival" isn't fascinating and thought-provoking. It just can't seem to get over the hump to approach the greatness of any of its equally-smart predecessors.
Amy Adams is brilliant as Dr. Louise Banks, an expert linguistics professor, who, along with and theoretical physicist Ian Donnelly (Jeremy Renner), is recruited by a military colonel (Forrest Whittaker) to attempt to communicate with the beings in an alien spaceship that lands in Montana. A saucer-shaped ship that appears to be levitating sideways, it's one of 12 massive vessels hovering over different parts of the world that gives no clear indication of its intentions.
Louise's task is to decode symbols that the aliens are seemingly communicating with, trying to figure out why they are here and what they want; and Ian wants to figure out where they came from and how they got here. The problem is the messages of the beings – dubbed "heptapods" (they resemble octopuses, but are one leg short) – are so complex that Louise and Ian may not have enough time to stave off a festering global war. It turns out that countries like China and Russia are perceiving the heptapods as a threat, and an attack on the ships is imminent.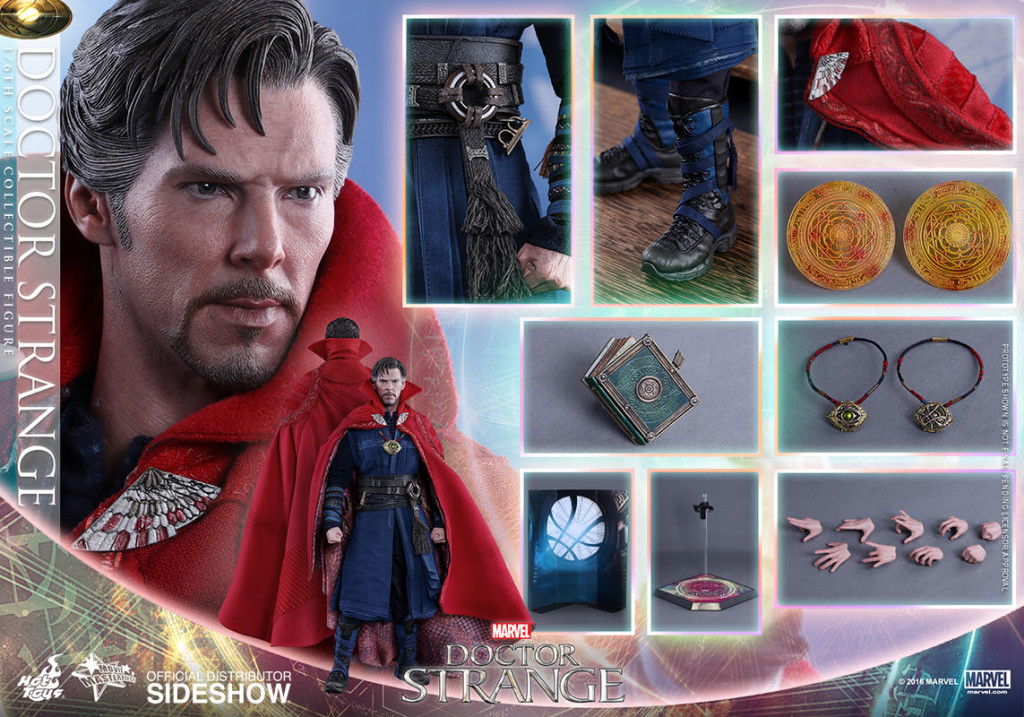 Click link for info on how to buy Hot Toys' Doctor Strange!
"Arrival" not surprisingly arrives just in time for awards season, and thanks to the brooding tone and atmosphere set by gifted director Denis Villenueve ("Prisoners," "Sicario"), the film manages to be cerebral without being pretentious. From the very first frame, Villenueve masterfully constructs a plot of misdirection, which ultimately results in one of the most satisfying payoffs on the big screen this year.
The problem is, up until the big reveal in the film's third act, "Arrival" plods along and may feel like a bait and switch to moviegoers expecting much more based on the film's tantalizing trailers. In the end, "Arrival" comes off as a studio-backed sci-fi art-house movie that doesn't deliver any of the sorts of scenes moviegoers associate with the genre. On one hand, the less is more approach is completely welcome for those pining for originality; but on the other, the film just feels too uneventful running up to the unexpected, hard-hitting climax. In the end, "Arrival" is satisfying, but ultimately underwhelming.
Lammometer: 6 (out of 10)