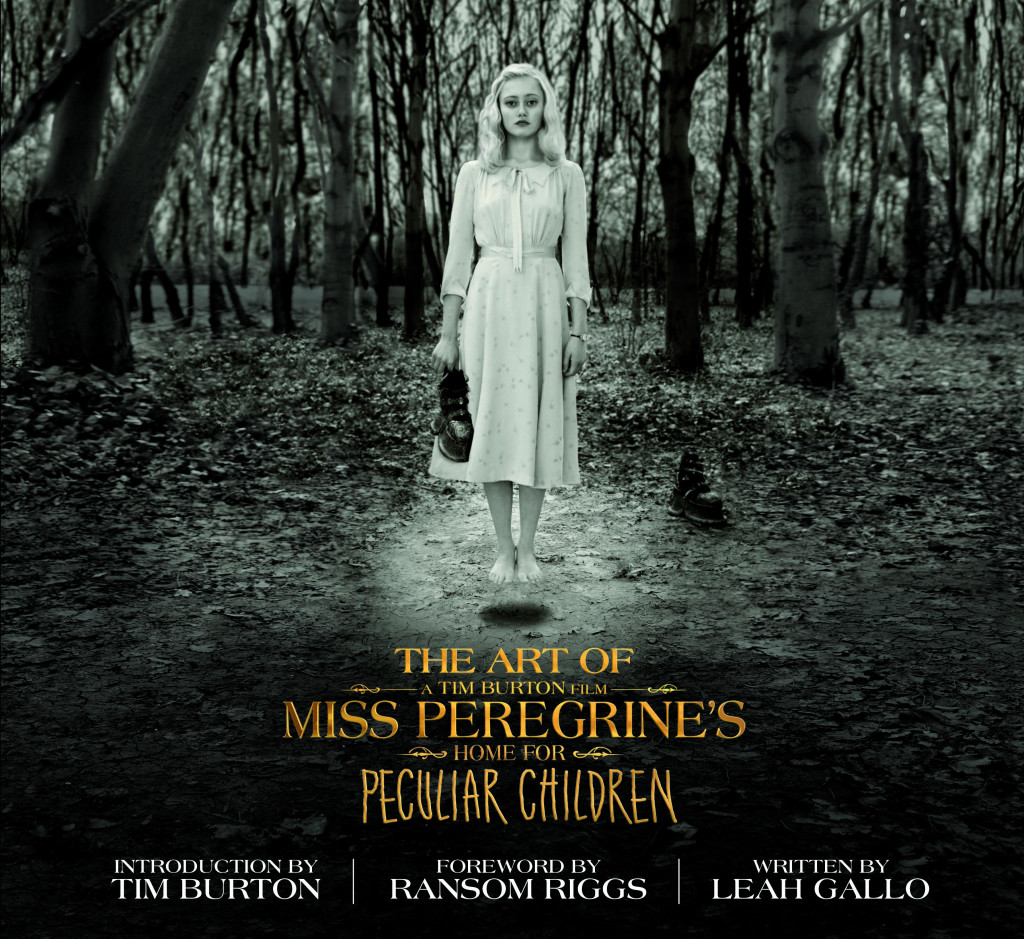 While fans of Tim Burton are waiting with burning anticipation for the release of his latest, "Miss Peregrine's Home for Peculiar Children," one of the celebrated filmmaker's closest collaborators has another look at the film in a most peculiar way.
In the new book "The Art of Miss Peregrine's Home for Peculiar Children" (Quirk Books), photographer/writer Leah Gallo documents the making of Burton's new adventure fantasy. In addition to a myriad of behind-the-scenes photos and portraits of cast members, the book features an introduction by Burton as well as a foreword by Ransom Riggs, the author of the best-selling novel that the film is based upon.
"Ransom is such a genuine, down-to-earth human being, and he just brings a lot of enthusiasm to everything he does," Gallo, a Pennsylvania native, recently said in a recent phone conversation from London. "Just being around him, it's contagious. It's always fun to hang out with him. We did photo shoots on the film, including Belgium, and he was a lot of fun to take photos of because he was game for whatever."
Follow Tim Lammers on Twitter and Facebook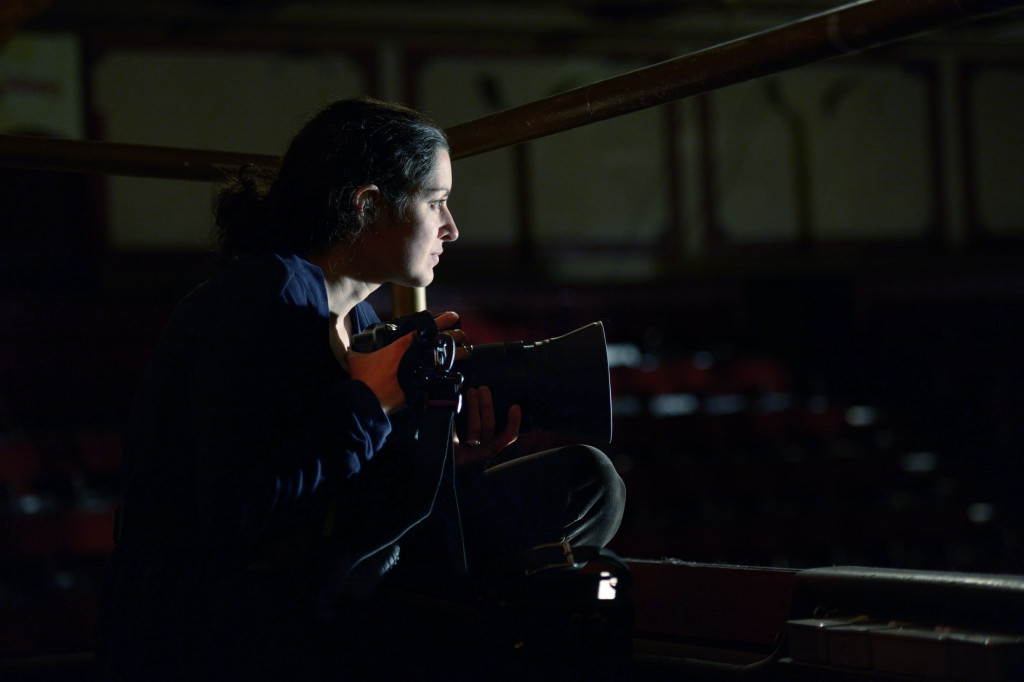 Leah Gallo. (Photo: Jay Maidment, courtesy 20th Century Fox)
Like she did on her last book on a Burton film, "Big Eyes: The Film, The Art," Gallo doubled her chores by writing the text as well as taking on many of the photographer duties. While on-set photographs from the making of the film were taken throughout the shoot, the most intensive period of work on the book in terms of the photos and writing took place between November 2015 and May of 2016. Joining Gallo on the book was her longtime collaborator Holly Kempf, who was in charge of design.
Gallo's "The Art of Miss Peregrine's Home for Peculiar Children" was unique in that the idea of Riggs' novel was borne out of photographs, assembled from the author/filmmaker's collection of unidentified vintage portraits that he assembled through trips to flea markets, antique stores and the like. Many were mysterious, if not eerie photographs of children, which led Riggs to conceptualize them in writing as "peculiar" with supernatural abilities.
As a result, Gallo created similar vintage portraits of the characters in the film, which in effect placed her in a parallel universe, effectively, by recreating the original photographs.
"We wanted to keep the vibe of the original photos as much as possible. Whenever we could, we tried to be true to the essence of the photos and the ways the subjects posed in Ransom's book," Gallo said.
But unlike Riggs, Gallo said she doesn't collect old, unidentified photographs of people — nor has she ever had the desire to.
"Whenever I see those old photo bins, I just feel a sense of sadness in a way," Gallo said. "It's like they're pieces of orphaned history that creates a mystery. 'Who was this person?' It creates limitless possibilities. That's why I think Ransom did a great job of curating his collection for his book, and choosing ones that were very striking, intriguing and creepy. I certainly appreciate them and find them compelling, especially in the way he's constructed the narrative around them."
"The Art of Miss Peregrine's Home for Peculiar Children" includes dozens of interviews with cast and crew members from the film, including executive producer (and Gallo's husband) Derek Frey, and of course, the filmmaker behind the peculiar vision that fans will see on the big screen when it opens across the country Friday.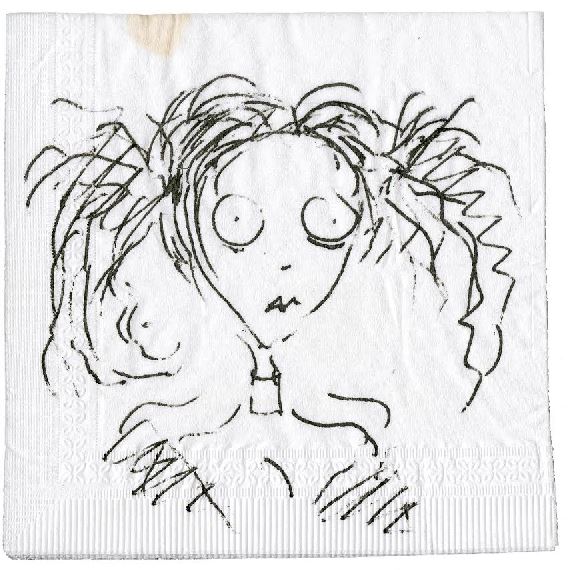 Leah Gallo, sketched by Tim Burton, from "The Napkin Art of Tim Burton" (Steeles Publishing).
Gallo recalled the first time she talked with Burton about what inspired him to make the film.
"The photographs from Ransom's book are what attracted Tim to the project," Gallo said. "He found them compelling and mysterious. They were a huge part of why he wanted to do the film. I think that's he was attracted to doing the story of these peculiar children. There's a similar narrative in a lot of his films, of the misunderstood."
While she's collaborated with Burton for 10 years, Gallo said it's always fascinating to talk with the filmmaker about his newly realized big-screen visions. Essentially, no matter how much she thinks she knows Burton, she always ends up learning so much more about what goes into bringing those visions to life.
"Whenever I interviewed him for the book, he always had answers that surprised me," Gallo enthused. "The depths in which he thinks about every little detail is amazing."