Click audio player to hear Tim's review on the "The KQ Morning Show" with Tom Barnard.

"Hacksaw Ridge" (R)
There's no way to prepare yourself for emotional experience that is director Mel Gibson's "Hacksaw Ridge," the compelling true story of forgotten World War II hero Desmond T. Doss, a battle medic who single-handedly saved 75 soldiers, one by one, in the Battle of Okinawa in 1945. Providing an inspiring, in-depth look at Doss — the first conscientious objector to be awarded the Congressional Medal of Honor – "Hacksaw Ridge" is easily the best film of the year, and its message of courage and sacrifice will echo for generations.
Andrew Garfield is brilliant as Doss, a devout Seventh Day Adventist who, following a turbulent youth with a violent father (the always great Hugo Weaving), swore off violence of any kind. Weathering his father's actions — which were spurred by his haunted past as a World War I veteran — Doss readily enlists in the Army, yet with caveat he does so without ever picking up a weapon. A strict believer in the Ten Commandments – specifically the Sixth Commandment of "Thou Shall Not Kill" – Doss wants to save lives instead of taking them. His determination to serve his country, however, comes at an enormous cost long before he steps foot on the battlefield.
There's no question Gibson has led a tortured, personal existence over the past 10 years, but when the man steps foot behind the camera, incredible things happen. Flanked by excellent performances by Theresa Palmer, Sam Worthington, Luke Bracey and Vince Vaughn in pivotal supporting roles, Gibson constructs a complete and utterly compelling look at Doss' life here – with a story that extends from Doss' time as a boy growing up in Virginia to an incredibly emotional look at his life after the war through real-life footage and testimonials by fellow soldiers. It may be the best film he's ever done in an already stellar canon of work.
Of course, "Hacksaw Ridge" will draw attention for its brutal depiction of violence, as its intense, unforgiving battle scenes no doubt match, if not surpass, the carnage displayed in the unforgettable opening of "Saving Private Ryan." While not for the faint of heart, the carnage in "Hacksaw Ridge" is a necessity in order for the film to get its point across. If there's a film today that is meant to teach the sacrifices of our country's military and the cost soldiers have paid and continue pay for our freedom, "Hacksaw Ridge" is it.
Lammometer: 10 (out of 10)
"Doctor Strange" (PG-13)
While this year's "Captain America: Civil War" ranks among the best films in Marvel's amazing run since 2008's "Iron Man," the studio's latest entry is just what the doctor ordered when it comes to keeping the sprawling superhero narrative fresh. Much different than Marvel's superhero movie entries, "Doctor Strange" still fits within the framework of the overall story the studio is assembling, and the presence of Strange (Benedict Cumberbatch) is a welcome one as the story moves forward.
Also new on Direct Conversations.com — Interview: Tim Burton, "Miss Peregrine's Home for Peculiar Children"
Follow Tim Lammers on Twitter and Facebook
Cumberbatch perfectly embodies Steven Strange, an arrogant neurosurgeon who loses his gift of saving lives in the operating room when his hands are severely damaged in a car crash. Feeling helpless, Strange's path to leads him to Katmandu, where he hopes leading a mystical guru known as "The Ancient One" (a brilliant Tilda Swinton) will teach him the power to heal with his mind. As it turns out, Strange is much more gifted than he realizes, and if he properly harnesses his power of sorcery, he'll be able to battle forces in the mystical realm that pose threats to the physical world.
While the visual effects in "Doctor Strange" are brilliant, they sometimes get in the way of the story. Still, the film – which co-stars Chiwetel Ejiofor, Rachel McAdams and Mads Mikkelsen – is entertaining throughout, right up until the very end of the end credits. Stick around, as per Marvel tradition, the sequences (there are two of them) help set up chapters in upcoming "Avengers" adventures.
Lammometer: 7.5 (out of 10)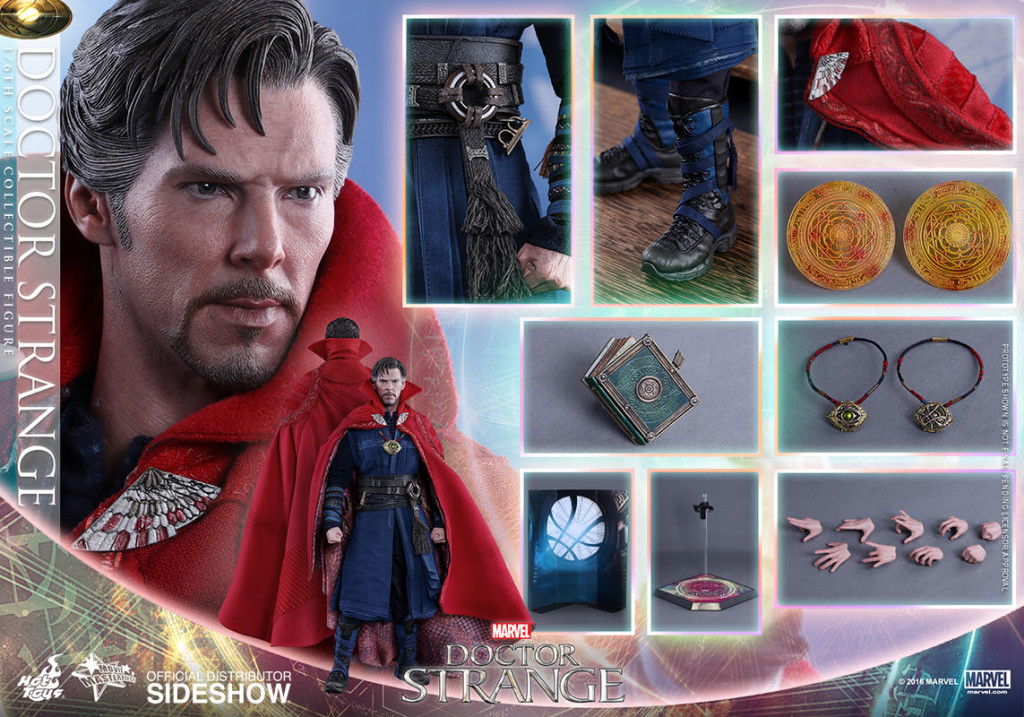 Click link for info on how to buy Hot Toys' Doctor Strange!