Big screen legend Alan Arkin has without question been one of the hardest-working actors in Hollywood over the past 50 years, making indelible impressions in the mid-60s with such classic films as "The Russians Are Coming! The Russians Are Coming!" and "Wait Until Dark." The films signaled an auspicious debut for Arkin in the film industry, paving the way to such hits over the years as "Catch 22," "Freebie and the Bean," "The In-Laws," "The Rocketeer" and "Glengarry Glen Ross."
Of course, Arkin's career hit overdrive in 2007 with his Best Supporting Actor Oscar win for "Little Miss Sunshine," which led to plum roles in such films as the 2012 Best Picture Oscar winner "Argo." In short, Arkin has done it all — that is, with the exception of doing a movie with fellow iconic actors Morgan Freeman and Michael Change. But that's all changed with "Going in Style," a poignant comedy new in theaters.
In the film, Arkin, Freeman and Caine play Albert, Willie and Joe, respectively, a trio of lifelong friends who have toiled for decades at a steel mill. Trying their best to enjoy retirement, the friends are shocked to learn from the mill that all company pensions have been dissolved. All broke and with a mortgage foreclosure pending for one of them, Albert, Willie and Joe hatch a plan to rob the bank that's involved in the pension fiasco to recoup what would be coming to them if they hadn't been swindled by their company.
LINK: See Tim Lammers' archived video and audio interviews, including Denzel Washington, Casey Affleck, Angelina Jolie, Morgan Freeman, Hugh Jackman, Francis Ford Coppola and more on his new YouTube channel.
A remake of the 1979 comedy of the same name, director Zach Braff's "Going in Style" is updated to reflect the financial crisis hitting seniors today. It's a brutally honest reality to confront, but often times great comedy is rooted in truth, Arkin said in a recent phone conversation from New York.
"Even the most outrageous comedy has to be rooted, even subliminally, in some kind of truth or else it has no meaning," Arkin said. "I was thinking about that connection with the Marx Brothers. Interestingly enough, people don't analyze the statements — and I don't mean messages — but emotional statements that exist in comedy. People think having a good time doesn't warrant examination. But even with the Marx Brothers, even though it's a much more stylized version of what we're doing, it's the same idea: Three kids from the Bowery on the lower east side stickin' it to the man. That's what most of the Marx Brothers' material is about."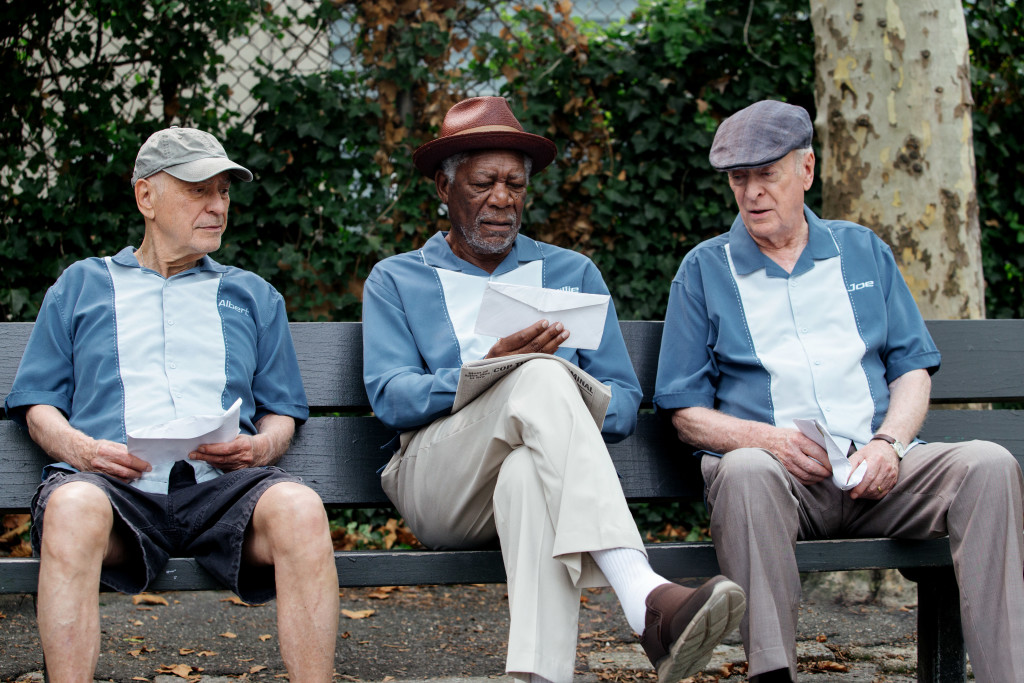 Alan Arkin, Morgan Freeman and Michael Caine in "Going in Style."
"Going in Style" also stars screen great Ann-Margret as Annie, a fiery grocery store clerk who wants to develop a romantic relationship with Albert, a longtime musician who worked in the steel mill to support his passion for music. And while Annie wants to make a different kind of music with Albert, they do at one point in "Going in Style" take to the stage to sing some karaoke.
Funny enough, Arkin, whose first feature film appearance came as a singer and guitarist with his group The Tarriers in the 1957 film "Calypso Heat Wave," was a bit anxious to take center stage again 60 years later.
"It was a little bit terrifying because we didn't know what song we were going to sing until the night before we did the scene, and we had no rehearsal whatsoever," Arkin said with slightly nervous laugh. "They threw us up in the bandstand and I was amazed that anything worked at all."
And while some actors use fear as a motivating factor in prepping for a scene, the comedy great, 83, said he'd prefer to leave that method of working to somebody else.
"I've had enough of that," Arkin deadpanned. "I prefer these days of not having fear being a motivation for anything."
Arkin has earned a stellar reputation over the years of being such a natural, and you can definitely feel it through his relatable character in "Going in Style." Part of the relatability no doubt stems from the actor's natural gift of improvisation, which he's used quite often over the years.
"I spent a long time in improvisational theater, so I know how to work with dialogue. When it's not working, I spend a lot of time changing dialogue," Arkin said. "If people don't like it, they can hire somebody else. I don't spring new dialogue on people, but I change stuff a lot – I've done that on at least half the films I've worked on. I'm very happy to comply with writing that has texture, dimension and depth."
Copyright 2017 DirectConversations.com.