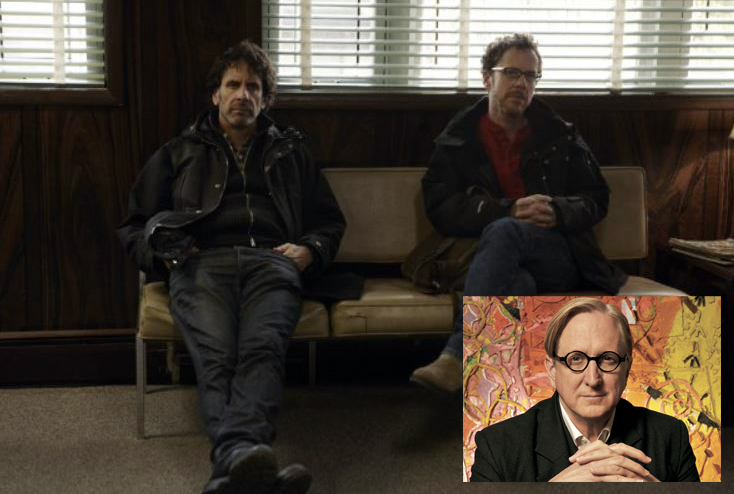 Joel and Ethan Coen on the set of 'Inside Llewyn Davis' (inset: T Bone Burnett). Photos: CBS Films, Lester Cohen/TBoneBurnett.com
By Tim Lammers
Much in the way Billy Preston was referred to by many as "The Fifth Beatle," T Bone Burnett has more than earned the same sort of distinction because of his fruitful working relationship with filmmakers Joel and Ethan Coen.
In fact, in a recent interview with Burnett in conjunction with the release of "Inside Llewyn Davis," I asked the legendary music producer if I could refer to him as "The Third Coen Brother," and he was more than OK with the distinction.
"I hope they'll adopt me eventually," Burnett told me, laughing. "I've always felt a real kinship with them, really from the first time I saw one of their films. I like their films so much that I actually called them up. We had friends in common and things like that, but I guess you could say this was a fan phone call to them. We talked films and turned into friends from there."
The first thing Burnett, 65, said he realized in talking with them was that they have the same sort of sensibilities as writers and directors, as he has as a songwriter and producer.
"I could tell they approached storytelling the exact same way I did from their first movie," Burnett said.
Now playing in limited release and expanding to more theaters Friday, "Inside Llewyn Davis" tells the story of the title character (Oscar Isaac), a struggling folk musician and songwriter in New York's Greenwich Village a short time before Bob Dylan changed the face of music in 1961.
Burnett's music-supervisor duties on the film marks the fourth time he's worked with the Coens, and it's easily the most extensive project he's done with them since "O Brother, Where Art Thou?" in 2000.
NEW: Direct Conversations: The Animated Films of Tim Burton (Foreword by Tim Burton)
Much like his previous collaborations with the Coens, Burnett, who also co-wrote some music for "Llewyn Davis," was treated like a creative partner on the film. After all, much of the film is essentially told through song, with live performances by Isaac, co-stars Justin Timberlake and Carey Mulligan, and others — so Burnett was happy to be intimately involved with the production.
"They're incredibly generous and inclusive people," Burnett explained. "Generosity is the hallmark of an artist, and they are the soul of generosity. While it's three-way collaboration, I have to say they're incredibly good at music, too. I'm just their facilitator. They have beautiful tastes and come up with incredible ideas, so I value them. I can't do it without them, I can tell you that. While the music is part of the film, the film is part of the music. They can't exist without each other."
While "Inside Llewyn Davis" includes songs of the era, it also includes a new, original tune, "Please Mr. Kennedy" — a swinging, folksy tune performed by Isaac, Timberlake and Adam Driver in the film. A satirical ditty about America's entry into the space race, the song pegs John Glenn as a reluctant astronaut before being sent into orbit.
"The song has a lot of history in it; it has Ogden Nash-style lyrics, John Glenn and John Kennedy," Burnett explained. "There's an old song from the '60s, 'Please Mr. Kennedy,' that says, 'Don't send me off to Vietnam.' That was the initial impetus of the song."
While the success of "Inside Llewyn Davis" is unfolding — the film has already received top nominations from the Film Independent Spirit Awards, the Broadcast Film Critics Association and the Golden Globes, among many others — Burnett said he can see another collaboration with the Coens in his future because there are just too many ideas in their minds that haven't been tapped into yet.
In turn, Burnett hopes the brothers tap into his subconscious ideas, too, because deep down, he always wants bring something new and exciting to the fore.
"You're only as good as the other people in your community, so the idea is that we all try to lift each other up," Burnett said, humbly. "Certainly, the Coens hold everybody up, including themselves, to the highest standards. It's like how if you play tennis, you play with better people because you want to play better."
Copyright 2013 DirectConversations.com/TimLammers.com