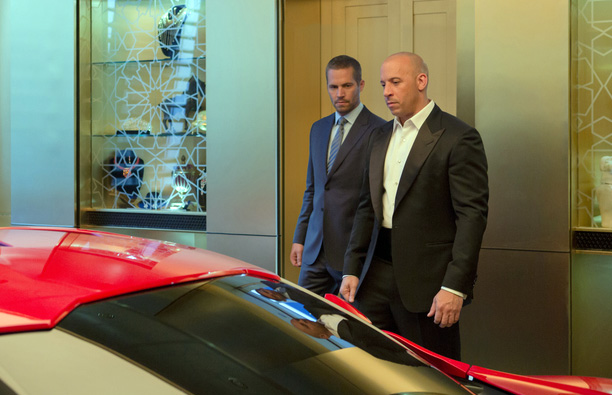 "Furious Seven" (PG-13) 3 stars (out of four)
All engines are a go in "Furious Seven," the seventh installment in Vin Diesel and Paul Walker's blockbuster "The Fast and the Furious" film franchise. Instantly throwing any sense of logic out the window, the hot-rod movie is as dumb as a box of rocks, yet revels in every second of its ridiculousness. That's because as implausible as it is throughout its exhausting 137-minute run-time, "Furious Seven" is also outrageously entertaining.
The premise of "Furious Seven" is fairly straightforward: A lethal, ex-British Special Ops soldier, Deckard Shaw (Jason Statham), is out for revenge after the loss of his brother — and he wants to make Dominic Toretto (Diesel) and the mercenary crew responsible pay with their lives.  Toretto and company (Walker, Michelle Rodriguez, Tyrese Gibson and Chris "Ludacris" Bridges"), however, can stop Shaw in his tracks if they can locate a high-tech terrorism device called "God's Eye," which can locate any person on the planet in an instant.
Also back for "Furious Seven" is Dwayne "The Rock" Johnson, but his appearance really only bookends the movie as the franchise introduces Kurt Russell as Mr. Nobody — a shady, whimsical government heavy who hires the crew to locate the rogue computer device.
As big as Diesel, Walker and company have become thanks the franchise, the true stars of "Furious Seven" are the muscle cars and souped-up vehicles that scream across the film's international scenery, purposely drive off cliffs and soar though one skyscraper in Dubai to the next.  Above all is a wild sequence where Toretto and his crew parachute their vehicles into a heavily-guarded foreign territory, proving that the sky, truly is the limit for the film's dizzying action sequences.
While classified an action crime drama, "Furious Seven" is often laugh-loud funny with its hammy dialogue and over-the-top, clichéd, 80s action movie-like macho characters. It has a so-bad-that-it's-good quality that's completely infectious. In fact, the only sense of seriousness the film has is when the late Walker shows up on the screen, reminding us of the tragic accident that took his life in November 2013.
Naturally, there's a highly emotional send-off for Walker at the film's conclusion, as director James Wan strings together a tear-jerker flashback scene recounting his appearances in all the "Fast and Furious" movies. Even more beautiful is how Wan constructed a lyrical exit for Walker from the series that couldn't be any more appropriate as the film franchise heads down new roads.
Tim Lammers is a veteran entertainment reporter and a member of the Broadcast Film Critics Association, and annually votes on the Critics Choice Movie Awards. Locally, he reviews films for "KARE 11 News at 11" and various Minnesota radio stations.