Iconic director Tim Burton has invited us to all sorts of fantastical cinematic settings throughout his illustrious, 31-year feature film career, and quite often we get a point-of-view look at those distinct landscapes through his eyes as his characters virtually take on his peculiar persona.
That's why fans of the famed filmmaker are certain embrace his new cinematic wonder "Miss Peregrine's Home for Peculiar Children," adapted from the international best-seller by author Ransom Riggs. Set in the present with leaps in time back to 1943, the film finds the caring Miss Peregrine protecting from evil a group of children with different sorts of supernatural abilities. One can see monsters, while another can bring inanimate objects to life. There's also a child who has the gift to project visions in his mind out of his right eye, and another who has a body inhabited by bees.
Burton said in a phone conversation from New York City Tuesday that he can deeply relate to the isolation and indifference felt by all of Miss Peregrine's children, and while he's heartily proven over the years that he can see monsters, create them on a set and project them on a big screen, he'd just as soon leave the insects out of it.
"The peculiarity I'd least like to have is bees living inside of me — I have enough buzzing around in my head and I don't need that," Burton said, laughing. "I tried to find myself in all of these characters. That was the fun of it. Each of the characters has a slight symbolic meaning to them that I always tried to relate to."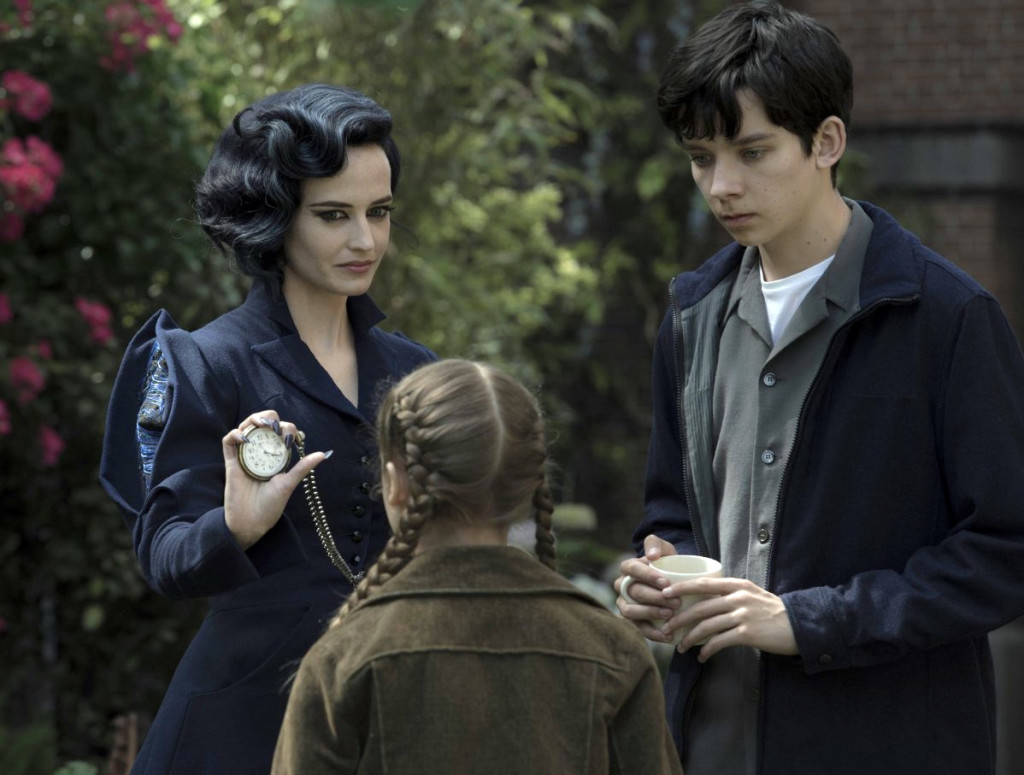 Eva Green and Asa Butterfield in "Miss Peregrine's Home for Peculiar Children." (Photo: Jay Maidment)
The great thing is, that symbolic meaning isn't exclusive to Burton. Much like the characters that populate the director's other films, the children in "Miss Peregrine's Home for Peculiar Children" are also bound to resonate with audiences. True, the children have fantastical abilities that you and I could only dream of, yet they're multi-dimensional people who are relatable on an emotional level because Burton is the filmmaker serving as the story's creative conduit.
"One of the things that I loved about the story is that I think a lot of us are deemed as weird or peculiar," Burton said. "The fact is, while all these kids have their peculiarities, if you didn't know what those peculiarities were, they'd just be viewed as normal kids. That's something I really felt close to and was an interesting dynamic in the story."
Follow Tim Lammers on Twitter and Facebook
Opening in theaters nationwide on Friday, "Miss Peregrine's Home for Peculiar Children" stars Eva Green as Miss Peregrine, along Asa Butterfield as Jacob Portman. Jacob is a shy and sensitive Florida teenager who is perceived as troubled because of his claims that he can see monsters — villainous creatures that turn out to be real and are threatening him, Miss Peregrine and the peculiar children tucked away in a mystical time loop halfway across the world.
"Miss Peregrine's Home for Peculiar Children" also stars Ella Purnell as a teen peculiar who has the power to levitate; Kim Dickens and Chris O'Dowd as Jacob's parents; Terrance Stamp as Jacob's grandfather, Abe; Allison Janney as Jacob's therapist; Samuel L. Jackson as villainous former peculiar and Judi Dench who has a peculiarity akin to Miss Peregrine.
Among the crew on the film is executive producer Derek Frey, who began his career as the director's assistant on "Mars Attacks!" in 1996. In a separate phone conversation, Frey said that Burton maintained the same level of bursting enthusiasm for "Miss Peregrine's Home for Peculiar Children" as he's had during their 20 years of collaboration.
"Whether an idea is generated by him or exists in a book previously, regardless of where it comes from,  Tim remains completely committed and gives his all to every single project … he's putting his mark on it and putting as much energy into as everything else," Frey said. "That's what inspires me, to see that energy. Tim's an artist. He's truly unique and that's why he's one of the few remaining distinct filmmakers out there."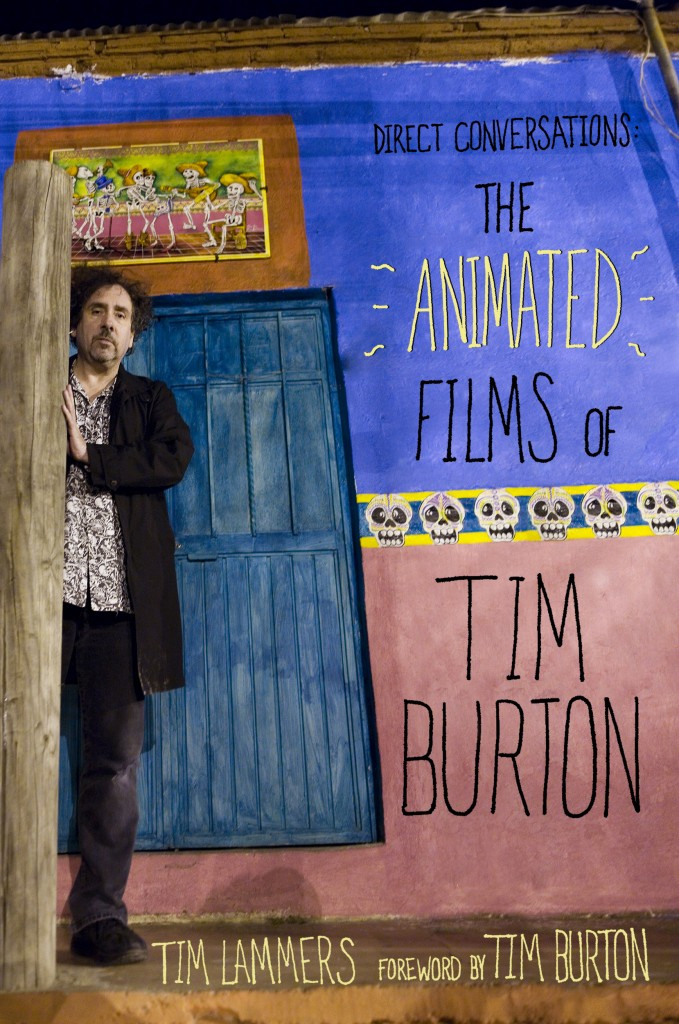 Photorealistic
While "Miss Peregrine's Home for Peculiar Children" seems like it was tailor-made for Burton, the truth is that the whole project came together by happenstance. Riggs, fresh out of film school in California, originally conceived the idea of "Miss Peregrine" as a picture book made up of unidentified vintage photographs of people he picked up at flea markets and antique shops in what began as a personal hobby.
The air of mystery about some of the photographs that featured children compelled Riggs to construct a narrative around the snapshots, and before too long, the proposal to adapt Riggs' then-newly published "Miss Peregrine's Home for Peculiar Children" found its way to Burton's office in 2011.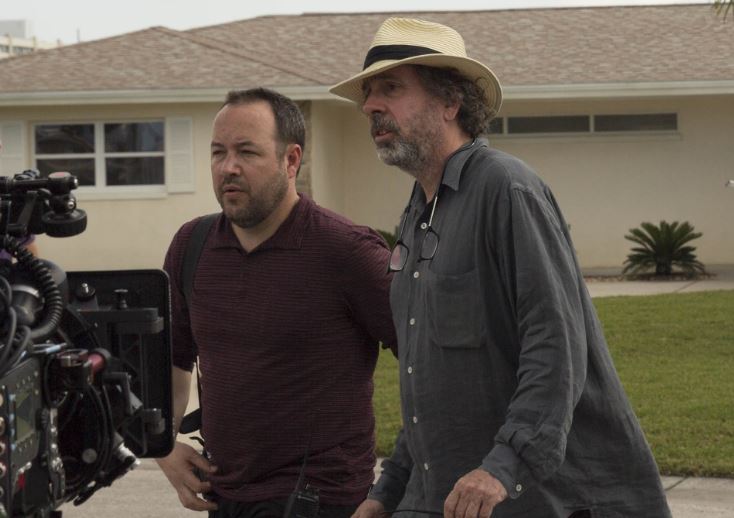 Derek Frey and Tim Burton on the set of "Miss Peregrine's Home for Peculiar Children." (Photo: Leah Gallo)
"It was the first time I looked at a book and loved it before I read it, and it was because of the old photographs," Burton said. "I like photographs — especially old ones — because they give you such a strange feeling. There's something quite mysterious, haunting and poetic about old photographs. The way he constructed a story around these photographs was quite clever — that idea was inspiring, just on its own. When I read it and saw all the other layers that went into it, it just felt very close to me."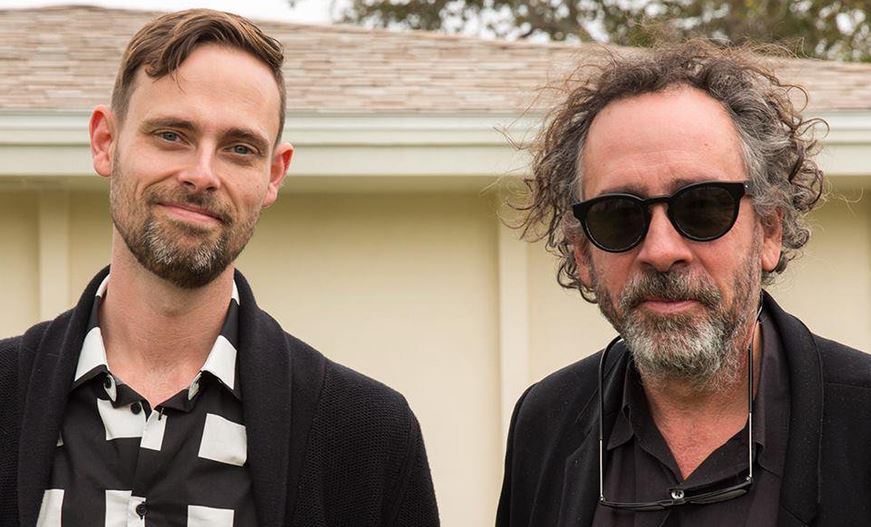 Ransom Riggs and Tim Burton. (Photo: Leah Gallo)
Reading a book, of course, is one thing, and adapting it into a film is another, which is why Burton and screenwriter Jane Goldman took great care in maintaining the core of Riggs' novel.
"It was weird. We were doing a movie, which is based on moving imagery, and obviously that's different from still photographs," Burton observed. "That was always in the back of our minds. We wondered, 'How do you do a moving image yet keep the spirit of the book, the poetry, the discovery and the feeling of a weird children's bedtime story like the way Abe tells things to Jacob?' We wanted to keep the spirit of the book and have Ransom's blessing, because you don't want to piss the writer off if you can help it, right? Luckily, between Ransom, Jane and I, we found a good mix."
Top two photos by Leah Gallo.