Without question, Steve Zahn has been one of the most reliable actors to work in Hollywood in the past two-plus decades. Zahn's list of credits is long and impressive — ranging from his breakthrough role in director Ben Stiller's romantic dramedy "Reality Bites" and a starring turn in Tom Hanks' directorial debut "That Thing You Do!" — to a turn opposite Eddie Murphy in the smash comedy "Daddy Day Care" and more recently, a memorable recurring guest turn on TV's "Modern Family."
Yet for all the comedy Zahn has done, he's had a fine share of serious film roles, too, including the adventure drama "Rescue Dawn" alongside Christian Bale and "Dallas Buyers Club" opposite his "Sahara" co-star Matthew McConaughey.
All told, the Minnesota native's ability to stretch himself across the character spectrum has come to serve him well, and was no doubt a factor in his casting him in the pivotal role as Bad Ape in writer-director Matt Reeves' new sci-fi thriller "War for the Planet of the Apes," which opens in theaters nationwide Friday.
In a phone conversation from New York Wednesday, Zahn said he still can't quite get over how the wizardry of computer artists added layers onto his motion capture performance to create a living, breathing simian; yet without losing the essence of the emotions he provided just beneath the surface.
"It's a crazy experience when you first see yourself as an ape," Zahn recalled of the first time saw footage of Bad Ape. "I was actually moved by it. It was a moving experience. It's hard to explain."
Bad Ape is a highly-evolved, former zoo chimpanzee who managed to survive an intensifying conflict between humans and apes as the simians continue to evolve as a species while the human population struggles to survive. And despite his desire to keep to himself, Bad Ape proves to be a valuable ally to Caesar (Andy Serkis) as he and a small band of apes seek the location of a bloodthirsty military colonel (Woody Harrelson) who is hell-bent on eradicating his enemies before Earth becomes a planet of apes.
"My view of Bad Ape when I read for Matt was that I didn't think of him as this comedic character — I told him that I thought of him as a tragic character, " Zahn said in a phone conversation from New York Wednesday. "He was living in the mountains and had lost his friends, and was dealing with his seclusion by collecting stuff and becoming a hoarder. When Caesar and the others show up, he's so excited to have companionship — and he bonds with Caesar over the incredible losses they've had in their lives."
Reeves does, naturally, take advantage of Zahn's comedic gifts at times, but even then, they're more in moments of situational comedy than set-ups for a laugh.
"I knew that Bad Ape would be funny in opposition to Caesar," Zahn said. "His pace is different. He's quick, he can't stop talking, he can't stop thinking, and he's always rocking back and forth. I knew that would have levity in this really dark story, and Matt agreed. But when I auditioned for the role, it was for a very moving scene, and Matt was moved by it and he will tell you that's why he hired me. He also, knew though, that I had the ability to find the humor in things."
Ape for Oscar
Already being lauded by critics as one of the best movies of the new "Planet of the Apes" trilogy as well as one of the best movies of the year, Zahn is hoping that above all, Serkis' third performance as Caesar is the charm with voters from the Academy of Motion Picture Arts and Sciences. Serkis, Zahn said, should not be judged on his motion-capture acting abilities, though, but his acting abilities.
"Andy's performance in this movie is profound. It is one for the ages," Zahn, 49, said. "I remember somebody asked me, 'Was it like taking a master class from him in motion capture acting? ' and I said, 'No. Working with Andy is like taking a master class in acting — period.' That's what we're doing. We're not doing any other thing."
Zahn added, however, that motion-capture does certainly have its advantages.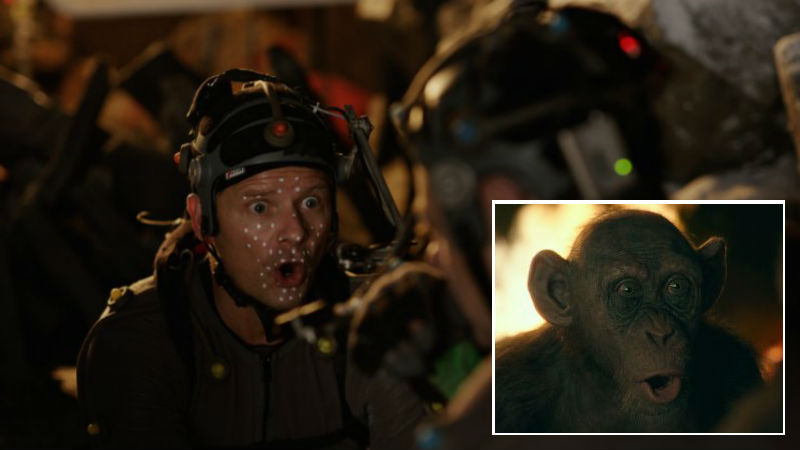 "It's one of the greatest tools you can have as an actor, because you can literally play anything you want," Zahn observed. "Andy went from playing Gollum to playing King Kong. What an incredible thing to do. I was new to it with this film and I really didn't know what to expect, and it was the most challenging acting job I've ever had. I'm extremely proud of it."
Zahn does believe, though, that for awards voters to honor the craft, they need to be exposed to a lot more motion-capture to get a greater understanding of it. And even though Serkis has been perfecting the craft since his days on "The Lord of the Rings" movies, some people simply don't quite get how motion-capture performances are achieved.
"It really irks me — and Andy just laughed when I emailed him about it — when I read a line that said, 'And Steve Zahn lends his voice to Bad Ape.' And that was written by someone in the business. I thought, 'Lends my voice? ' Oh, my God. I was pissed! I emailed him and he was just like, 'Yeah, I've been dealing with this for 17 years.' I really felt for him when he said that. He's an incredible actor."
Copyright 2017 DirectConversations.com.