Although she's experienced amazing success on TV with "Saturday Night Live" and the big screen with the 2011 blockbuster comedy "Bridesmaids," Kristen Wiig said doesn't take anything for granted as she continues to savor every step in her ever-burgeoning career.
Following a voice role in the summer smash "Despicable Me 2″ and a hilarious turn as Brick Tamland's (Steve Carell) love interest in "Anchorman 2," the latest and greatest opportunity to come Wiig's way is a starring role opposite Ben Stiller in the actor-director's fantastical dramedy "The Secret Life of Walter Mitty."
Wiig told me in an interview that the biggest thrill of her latest big-screen adventure is the fact that the film doesn't rely on her comedic skills. The film has laughs, to be sure, but it's also loaded with heartfelt moments that lets the actress, 40, show that she's capable of engaging audiences in a much different way.
"I was extremely flattered when Ben thought of me for the role because I knew he wasn't going for a broad comedy," Wiig recalled. "I love to have the opportunities to do other things and in this past year, I worked on three smaller films that are much more dramatic in tone. You have to be given the chance to do that and prove that you can do it or at least try."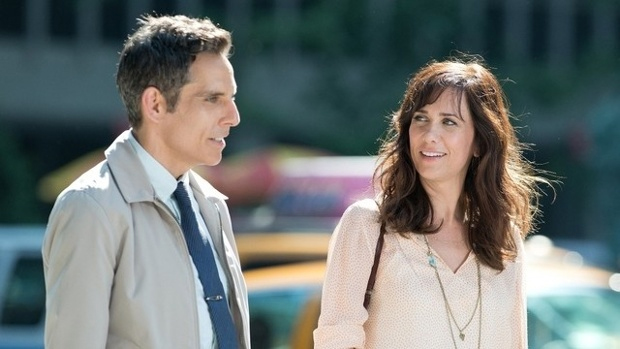 That's not to say Wiig spurns her work as a comedic actor. In fact, she's very grateful for it. But having great success at it can work against a performer, too.
"I think it's natural for people to associate you with the work that you're known for, and that makes complete sense to me," Wiig said. "I had been on 'SNL' for seven years and did a handful of movies, all of which were comedies, so I totally understand why people think that's all I do. So for Ben to think of me in this role, which I really wouldn't say is comedic even though it has funny moments, is great. For the most part, it's pretty subdued and subtle, and I was really excited for the opportunity."
New on Blu-ray and DVD (Fox Home Entertainment) "Walter Mitty" follows the title character, a longtime photo editor at Life magazine who spends his time daydreaming of an extraordinary life, including ways he can inspire a romance with his relatively new co-worker, Cheryl Melhoff (Wiig).
But when word comes down that the company is ceasing its print edition and he's responsible for a big part of the final issue, Walter finally finds a way to connect with Cheryl, who is pivotal in helping him embar
k on an amazing trek across the globe that's more extraordinary than anything he could have envisioned.
Based on James Thurber's classic New Yorker story from 1939, Stiller's version of "Walter Mitty," written by Steve Conrad, is an updated tale for modern times — and the inclusion of Wiig's character is a big part of it.
"The short story is very different in that regard, but in this movie, Walter really needed that relationship," Wiig explained. "He needed a person to be supportive. The way that Steve wrote it, Cheryl is a huge inspiration for Walter. She's really the only person that understands him and propels him into this journey, which is very different for him."
Despite the updates, Wiig assured that fans of the original work shouldn't worry about the story losing its essence.
"What Steve did when he wrote the script was really special and brilliant in he took what we love about the character of Walter and modernized him in a way that we can all relate to," Wiig said."I think that's one of the reasons that the story is so timeless, because we can all relate to Walter. We're all a little bit of Walter in that we have a fantasy life and we all daydream. We all imagine our lives to be different."
In "Walter Mitty," Wiig definitely got the chance to live the life of a rock star, where in one of the film's most memorable scenes, she strums a guitar and sings David Bowie's classic song "Space Oddity."
But while we get to hear Wiig singing Bowie's famous lyrics, including "Ground control to Major Tom," she admits the rest of what you see involves a bit of movie magic.
"The actual guitar you're hearing is not me, but I did take guitar lessons so it looked like I was playing the chords as we filmed it," Wiig said. "Of course, as we were shooting it, everything went out of my brain and I don't even know if I was moving my fingers."
Since Wiig's rendition of "Space Oddity" morphs into Bowie's original version in the film, I suggested to her that she say she's actually done a duet with the rock icon.
"That's what I do say," Wiig said with a huge laugh. "People are like, 'Wait, you sang with him?' and I'm like, 'No, not really.' But I pretend that that's what happened."