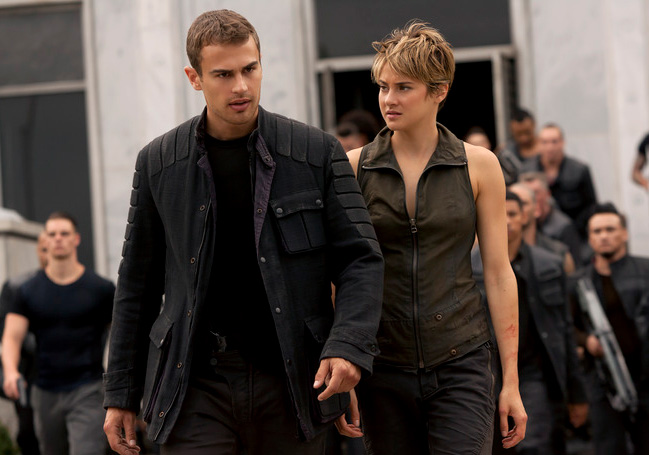 "The Divergent Series: Insurgent" (PG-13) 3 stars (out of four)
The battle of the young adult, dystopian novels-turned-movies continues with "The Divergent Series: Insurgent," the second in a four-film series that's trying to keep up with the popularity of "'The Hunger Games" phenomenon. And while "Insurgent" falls short of those aspirations again, there's still enough in the movie to warrant fans' attention.
Shailene Woodley returns as Tris in the post-apocalyptic city of Chicago, where the city's residents are divided into five factions based on different virtues: Abnegation (those who are selfless), Amity (peaceful), Candor (honest), Dauntless (fearless) and Erudite (intelligent). The system is devised to prevent anyone willfully acting out on their own and threatening the other residents of the city.
Tris is seen as a danger because she transcends the categories as a Divergent, and at the end of the first film, she, along with her Divergent boyfriend Four (Theo James), began to threaten the regime established by the iron-fisted Jeanine (Kate Winslet).
In "Insurgent," Jeanine has taken to extreme measures, first by eliminating an entire faction on her way to hunting down the Divergents – namely Tris and Four – who are now on the run. Her mission is to capture and eventually kill the Divergents; but first find the most powerful one and put him or her through a series of brutal psychological simulations in an effort to unlock the greatest mysteries of their society.
Unless you've recently watched "Divergent" again, it takes a bit of time to re-acclimate to the story and characters, but once the action kicks into high gear, "Insurgent" is a fairly engaging movie. Again, while "The Divergent Series" doesn't hold a candle to the much more compelling "Hunger Games" films (although it boast much bigger and bolder special effects), there are enough interesting plot turns and unexpected character developments to make you wonder what's going to happen next.
"The Gunman" (R) 2 1/2 stars (out of four)
Despite a great cast, "The Gunman," the latest directorial effort from "Taken" helmer Pierre Morel feels, well, like another "Taken" — but this time substituting Sean Penn for Liam Neeson.
Penn stars as Jim Terrier, a contract mercenary who assassinates the minister of mines in the Congo. Asked to flee and leave his life – and girlfriend, Annie (Jasmine Trinca) – behind after pulling off the high-profile sniper job, Terrier returns to the Congo to work for a humanitarian organization eight years later, only to find that his past has caught up with him and somebody wants him dead.
After catching up with one of his former mercenaries, Cox (Mark Rylance), in London, Terrier skips over to Spain to relocate Felix (Javier Bardem) – only to learn that his former friend is now married to Annie. After finding out he was double-crossed by Felix in more ways than one, Terrier finds himself on the run once again, realizing Annie and another old mercenary friend, Stanley (Ray Winstone) are the only people he can trust.
It doesn't take long for viewers to realize that Penn's character in "The Gunman" has a "particular set of skills" a la Neeson's Bryan Mills, and he knows how to use them despite a brain condition that occasionally forces him to stumble and fall. In a few obligatory shirtless scenes, Penn is certainly built up enough to take on the bad guys, and much like Neeson in the first "Taken," has the gravitas to make his lethal actions seem believable.
Although the film has its share of intense moments punctuated scenes of ultra-violence, "The Gunman" ends up being a fairly predictable crime thriller. There's no doubt that Morel has a handle on the genre, but in the end it feels like any number of different action films, with the exception being that it's populated with great actors (including Idris Elba) who are trapped in the doldrums of a limiting plot.
Tim Lammers is a veteran entertainment reporter and a member of the Broadcast Film Critics Association, and annually votes on the Critics Choice Movie Awards. Locally, he reviews films for "KARE 11 News at 11" and various Minnesota radio stations.