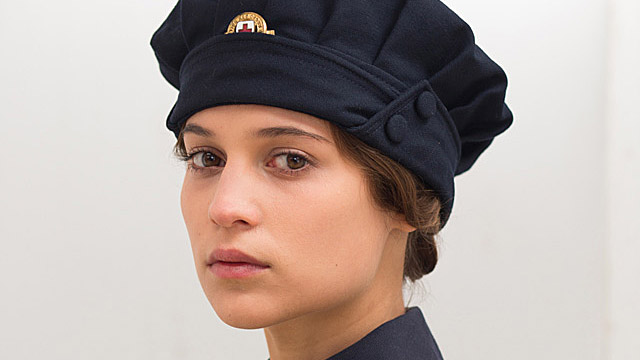 To say it's been a whirlwind year is an understatement for Alicia Vikander, the Swedish-turned-Hollywood film sensation. In the past four months, she has had starring roles the fantasy adventure "Seventh Son," the sci-fi thriller "Ex Machina," and now, the lead as real-life pacifist and feminist icon Vera Brittain in the World War I drama "Testament of Youth."
If that isn't enough, she'll star in August opposite Henry Cavill and Army Hammer in the 1960s spy drama "The Man From U.N.C.L.E.," and later this year, opposite Bradley Cooper in the comedy "Adam Jones."
If there's anything distinct about those credits, the roles come five completely different genres — an actor of any age's dream, much less a 26-year-old relative newcomer to the Hollywood scene.
"I don't really have a great plan about what types of films to do, but I try to look for films, projects and ideas that are different from anything I've done before," Vikander told me in a recent phone call from New York. "So it's more really about that than planning ahead."
Opening in New York and Los Angeles Friday, "Testament of Youth" is the big-screen adaptation of Brittain's famed, best-selling memoir. It chronicles her time as a promising student who fought to get into Sommerfield College at the University of Oxford in England, only until the breakout of World War I compelled her to enlist as a Voluntary Aid Detachment nurse in 1915 to providing aid and comfort to wounded soldiers.
Despite several personal tragedies, Brittain pressed on as a VAD nurse throughout  the entire war and eventually, went on to become an author. She published "Testament of Youth" in 1933.
Directed by James Kent, "Testament of Youth" also stars Kit Harington ("Game of Thrones") as Brittain's fiancé, Roland Leighton; Taron Egerton as her brother, Edward Brittain; and Dominic West and Emily Watson as Brittain's parents.
Vikander admitted that she was exhilarated to be cast as Brittain, but terrified at the same time. The literary legend has only been portrayed a handful of times before, first and most notably by British actor Cheryl Campbell in the 1979 BBC miniseries production of "Testament of Youth."
"Vera Brittain is such a big British icon, so with me being foreign from Sweden, it meant a lot to be entrusted with the part," Vikander said. "I not only wanted to pay tribute to the people who read her books, but her family — the people who loved her and adored her. As her book 'Testament of Youth' came to me, knowing they were going to make a film of it, I felt so much for this woman, and her story of  love and loss. I so much wanted to be a part of it."
Vikander said she couldn't help but be inspired by Brittain's resiliency through all the personal tragedy she suffered during World War I, and playing the role made the actor realize just how honored she was to have the opportunity to tell her story.
"In this industry, in general, it's very rare to find deep, complex female leading roles, and this role was one of them," Vikander said. "I admire her so much and was so intrigued by the chance to get to portray her. She became one of the biggest pacifists and feminists in history. I knew it was going to be very intense — and it was."
Thankfully, Vikander said, she had Kent to help her ease into the role — and his background in documentary filmmaking came it quite handy.
"James allowed us to be very raw and in the moment, and in his documentary style, he tried to catch it while it happened," Vikander explained.