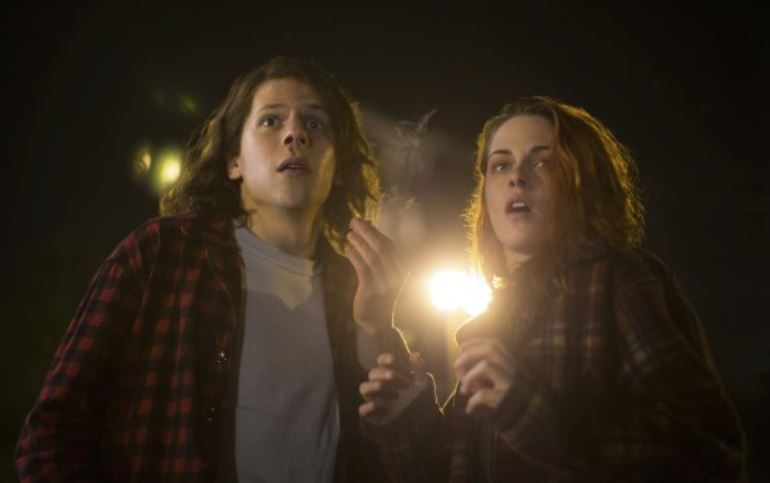 "American Ultra" (R) 2 1/2 stars (out of four)
"American Ultra" lives up to its billing, at least in name: An unapologetic ultra-violent action comedy, it liberally uses shock and awe that will either have you cringing in your seat, bursting out in laughter, or both. And while "American Ultra" is far from a perfect movie, you'll at least leave the theater with the feeling that an honest effort was put forth to entertain, save one dreadful performance by its lead actress.
The film has three smarmy leads to warm up to: Jesse Eisenberg as Matt Howell, a stoner convenience store worker who can't seem to leave the confines of his small town without retching and having panic attacks; Kristen Stewart as his patient girlfriend, Phoebe Larson; and Topher Grace as power-hungry CIA official Adrian Yates who orders Matt be wiped off the map.
It turns out Matt actually is a top-secret government experiment in the "Ultra Program," which erased the minds of ne'er-do-wells like the habitual drug offender and turned them into killing machines without them even knowing it. But in a bid to save Matt's life, the program's head, Victoria Lasseter (a wonderful Connie Britton) heads off Yates' hit by "activating" her test subject with a few simple code words, giving him the ability to dispatch any bad guy or gal who tries to kill him with razor-sharp precision.
After a relatively mild 20 minutes, the remaining 75 of "American Ultra" turns into hard-hitting bloodbath that it increases with intensity with every kill. Playfully scripted by John Landis' son, Max Landis, the plot unfolds with a few twists and turns as Matt seems to get himself into deeper and deeper trouble with the authorities, winding down to a fairly predictable conclusion.
As brutally violent as "American Ultra" gets, director Nima Nourizadeh clearly intended to give the film a wicked satirical edge, and its irreverent tone makes the movie feel like the wonderfully funny "R.E.D." meeting whacked out versions of "The Borne Identity" and "The Manchurian Candidate." It's the sort of material that fits Eisenberg's acting talents well, as once again he effortlessly rattles off his lines with the just right amount of snark that keeps him just on this side of believable and likeable.
Stewart, on the other hand, gives yet another bloodless performance, which, of course, all began as the would-be vampiress Bella Swan in "The Twilight Saga." What continues to land this mopey, one-note actress work is one of Hollywood's greatest mysteries, and "American Ultra" is the latest baffling chapter. Thankfully, she's surrounded by talented actors like Eisenberg, Britton, Grace (he's one-note, too, but effective) and Bill Pullman in a small, but pivotal role, who all keep us distracted from Stewart's obvious lack of talent. This girl is in serious need of ultra-acting lessons.