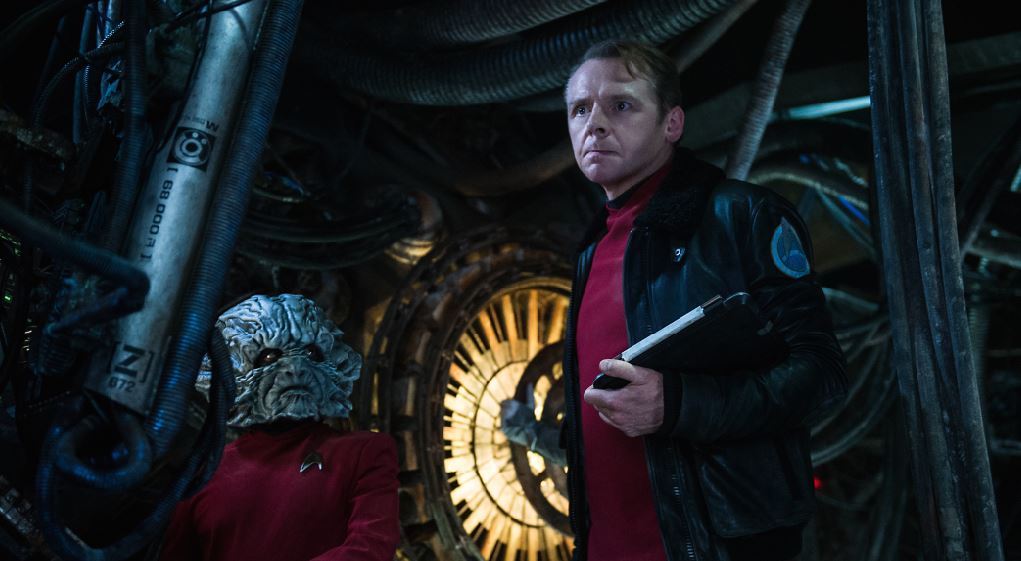 Without question, Simon Pegg's career trajectory of late has catapulted him into the stratosphere. In the past seven months, he's appeared in a "Star Wars" film with "The Force Awakens" and now, another "Star Trek" film — a pretty amazing feat, considering most actors don't get the opportunity to be in one film in either franchise, much less both of them.
But the real thrill, Pegg said in a phone conversation from New York Wednesday, was an opportunity to co-write the screenplay for the latest adventure of the Starship Enterprise in "Star Trek Beyond."
"It's been a heck of a ride. It's been a privilege to me as a fan and getting a chance to manipulate the 'Star Trek' universe and add details to it," said Pegg, who, of course, also plays Scotty in the reboot of the film franchise. "It's also great to add new characters and new situations for those beloved characters we know from 50 years of 'Star Trek' history."
Opening on 2-D, 3-D and IMAX 3-D screens Thursday night, "Star Trek Beyond" finds the crew in the third year of its five-year mission, forced to confront a malevolent villain, Krall (Idris Elba), after his forces destroy the Enterprise and captures its crew. In addition to playing Chief Engineer Montgomery Scott, Pegg shared screenwriting duties with Doug Jung. Pegg said while he and Jung felt an "enormous responsibility" to deliver, they weren't necessarily intimidated by the assignment.
"As fans of the show, we felt, 'Yeah, we can do this.' This is something that we're eminently qualified to do since we've been around a long time and felt plugged in," Pegg said. "It felt right, even though I knew it would be daunting at times, and incredibly frustrating since we had a short space of time to write it in. I knew that eventually, if we could pull it off, then it would feel like a wonderful thing to have done. As the cliche goes, 'It's always better to regret something that you did do instead of something you didn't.' I didn't want to say, 'No way I'm doing this.' It felt like it would be silly not to have grabbed the opportunity."
While Pegg knew from a narrative standpoint that the "Star Trek" saga was moving forward, he also wanted to give his take on the franchise a different spin, creatively. Oddly enough, while the spin would be fresh to the timeline of the new trilogy of films, it's essentially an idea that makes up the core of the TV franchise.
"First and foremost, we wanted to get the Starship Enterprise trekking. It hadn't even started its five-year mission in the first two movies," Pegg said. "The first two movies were pretty much in their own solar system with a few little jaunts outside of it. It felt like we need to get this film to be what the original TV series was about, which was a mission to explore the galaxy."
Another thing that was important to Pegg was to make sure the film didn't take itself too seriously.
"We wanted the film to feel fun, and not dark and ponderous," Pegg, 46, said. "That seems to be the mood these days, to make everything so dark and serious, almost as if to justify us watching these things as grown-ups. In actual fact, these stories should be celebrated for what they are. If the stories are light and fun, the movies should be light and fun. I think the original 'Star Trek,' aside from having a vein of social commentary and seriousness to it — which is an important part of it — also did embrace its humor, and people sometimes forget that. It was important to Doug and I that the film had a fun side, too, in addition to being an exciting and thoughtful adventure."
Produced by J.J. Abrams, directed by Justin Lin and featuring the return of Chris Pine, Zachary Quinto, Zoe Saldana, John Cho and Karl Urban, "Star Trek Beyond" has an inherent bittersweet feeling to it since fellow core cast member Anton Yelchin died tragically in June at the age of 27. Pegg said the loss of Yelchin has naturally been weighing heavy on everybody's minds, even as they get ready to premiere the film for fans at San Diego Comic Con this week.
"We knew it was going to be an effort to promote the film with any degree of enthusiasm because we've lost somebody that we loved," Pegg said. "We've been a family for a long time and I feel for anyone who's lost anybody in circumstances that were premature. It's an unspeakable pain, and we're all utterly, utterly undone by it."
Pegg said when he saw the film for the first time recently, he expected to be in tears the whole time, only to be gripped by the magic of a performer who was clearly in his element when he was onscreen.
"To see Anton alive, to see him feel alive, vital and brilliant like he was, it made me realize that he will live forever," Pegg said. "For people who didn't know Anton, things haven't changed. You're still going to be able to see him and still be able to enjoy what he did. For us who knew him, there's going to be a hole in our lives forever, but we decided to move forward in the promotion of this film because it was coming out whether we liked it or not.
"Rather than withdraw from it and not engage, we decided to get out there and work hard because it needs to be seen and not missed because it stars Anton," Pegg added. "He was our brother and we loved him very, very much."