Don't kid yourself: Even though the newest entry into the "X-Men" movie saga, "Logan," draws its inspiration from the "Old Man Logan" storyline in the Marvel Comics series, this isn't your grandpa's Wolverine.
Starring the man who defined the role of Logan/Wolverine — Hugh Jackman — for the ninth and perhaps final time in the "X-Men" movie saga, it's clear from the beginning of "Logan" that Jackman and director James Mangold, his collaborator on 2013's "The Wolverine," were going to make a decidedly different mutant film. Rated R and presented in gritty and brutally realistic fashion, Mangold and Jackman were intent on making sure Logan — as well as Patrick Stewart's Professor Charles Xavier — had a deliberately harder edge to them.
Most importantly, however, unlike anything the saga's fans have seen with the characters before, "Logan" finds the aging duo tired, ill and sadly, facing mortality. To do the film, Mangold said in a recent phone conversation from New York City, that sort of narrative was a must.
"I very much enjoy these movies as a whole, but I do think that they've gotten into a bit of a rut, in the sense that you could almost make a Mad Magazine version of these movies, where they always seem to be about some dark force arriving and is going to destroy the world," Mangold said. "You can almost cut the trailer in your mind where some character is saying, 'This is the worst we've ever faced,' and if they don't level a city, they level a continent, and if they don't level a continent, they blow up the Earth, and the threats, the stakes are always so high and global."

Audio slideshow: James Mangold talks "Logan"
Quite simply, Mangold said, a movie like that simply has to dial things back not just a bit, but a lot.
"When you're making a movie where there are 10 protagonists, a supervillain and five, giant set pieces of action, the principal characters end up with about four minutes of trying to sketch out their character problem and eradicate it later," Mangold said. "It's no wonder that sometimes we feel like these movies are emotionally flat or thin in characterization. The characters have devoted all their time to other tasks and become people making cameos in these giant spectacles."
And spreading the characters too thin is only one of Mangold's concerns.
"At some point, I think for me, that the old adage of 'Less is more' comes in," said Mangold. "It's where I've started experiencing an overload, where I'm sitting in a theater with the sound blasting and spectacular, amazing, insane visual effects, and I start to feel like Malcolm McDowell in 'A Clockwork Orange,' and I want my eyes to just roll up in my head and pass out because I've had enough. We really wanted to make a different film in tone in that sense. Yes, we wanted to deal with the mortality of the characters and their fragility, but we also wanted the space to explore those ideas without the sensory overload."
Opening in theaters and on IMAX screens Friday, "Logan" finds Wolverine and Charles in the year 2029, where mutants are virtually extinct. Along with Charles and another mutant, Caliban (Stephan Merchant), Logan is forced out of his hiding on the border of Mexico when he is suddenly tasked to protect a young girl, Laura (Dafne Keen), who appears to have the same mutant abilities as he does. On the run from a militaristic government organization seeking her capture, Logan must find a way to transport Laura to a safe haven in the northern part of the U.S.
LINK:  See Tim Lammers' archived video and audio interviews, including Denzel Washington, Casey Affleck, Angelina Jolie, Morgan Freeman, Hugh Jackman, Viola Davis, Francis Ford Coppola and more on  his new YouTube channel.
With far fewer mutants and subplots to concentrate on, Mangold had the benefit of not only making an "X-Men"-themed movie, but the opportunity to combine the mythology with the sensibilities of the previous character dramas he's directed.
"Our real goal was to try to create enough space for ourselves, as if I were making 'Copland,' 'Girl, Interrupted,' 'Walk the Line' or '3:10 to Yuma' or another one of my movies, and ask, 'How can I take these really interesting characters that we have mainly only seen through the prism of these 'Save the world' storylines, and view them through a much more intimate storyline?' Mangold recalled. "My initial proposal to Fox was that I wanted to make very bloody, existential version of 'Little Miss Sunshine' with Logan and Charles Xavier."
SHOP: Marvel Wolverine Marvel Collectible Figure
Apart from the graphic violence (Logan has adamantium claws, after all, so they're going to cause some damage), the purposefully R-rated film has its share of F-bombs, and the explosive use of the language doesn't come from the idea of using the word simply because they can, but because there is meaning behind it. When you see and hear, perhaps shockingly so, that the aging Charles suddenly has a penchant for dropping the F-bomb, you'll understand why.
"Many people have gone through it — even with very graceful parents — where that moment sets in and your systems are failing you, it's incredible sometimes to hear 'The Exorcist'-level of obscenity to come out of an old person's mouth where their world is losing its moorings a little bit," Mangold said. "But the use of the language also, honestly, fits in the whole tone of the film from the beginning to the end. It's just a little bit more raw than what we've seen in the other pictures. That was quite intentional."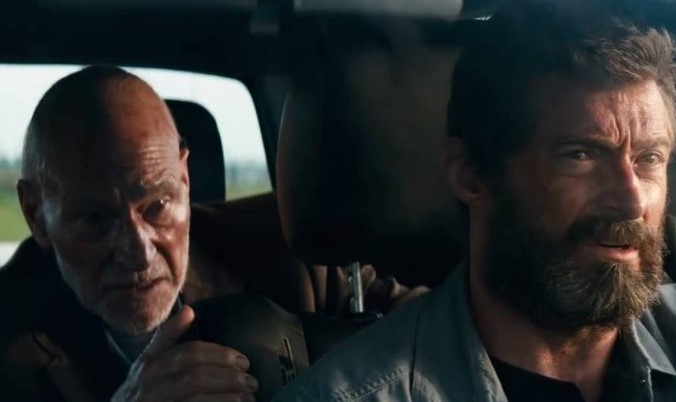 While Jackman and Stewart are naturally the names on the marquee that people will instantly recognize, there are many times where Keen, whose storyline is quite significant in "Logan," steals the show from both of them. What's amazing is that she commands your attention at times even in a non-verbal way, and that was only one of the many requirements Mangold had for the integral character.
"She's incredible. We searched high and low, and it wasn't exactly easy. I said I needed someone between 10 and 12 years of age, physically capable, brilliant actress, Hispanic descent and bilingual. Now you try that on," Mangold mused. "Worldwide, that adds up to producing about five or six kids. When the tape arrived in an email from London of this wonderful 10-year-old at that time who was reading for this part — it was this little iPhone tape that he dad had made of her, climbing around on bookcases and doing a couple of scenes — I knew the second I saw it without even meeting her that she was the young woman for the part."
Copyright 2017 DirectConversations.com.