Big screen icon has Ann-Margret has starred in many classic films over her illustrious 56-year screen career, including a pair of movies about two "Grumpy Old Men" (Jack Lemmon and Walter Matthau) from Minnesota in 1993 and 1995.
And while scripts containing the flavor of those films undoubtedly landed on the actress' doorstep for the past two decades, Ann-Margret avoided taking any roles involving more grumpy old men — that is until an opportunity came about to work with Michael Caine, Morgan Freeman and Alan Arkin that was too good to pass up.
In a recent phone conversation from New York City, Ann-Margret said her impressions of the legendary actors were exactly as she hoped they would be.
"I had done a film with Alan Arkin before, so I knew him and we're friends. But to see these three guys together — 'the boys,' I call them — I saw them as teenagers; as 17-year-olds," Ann-Margret said. "Sometimes when you look at someone and try to imagine what they were like when they were younger, and the boys are still the same."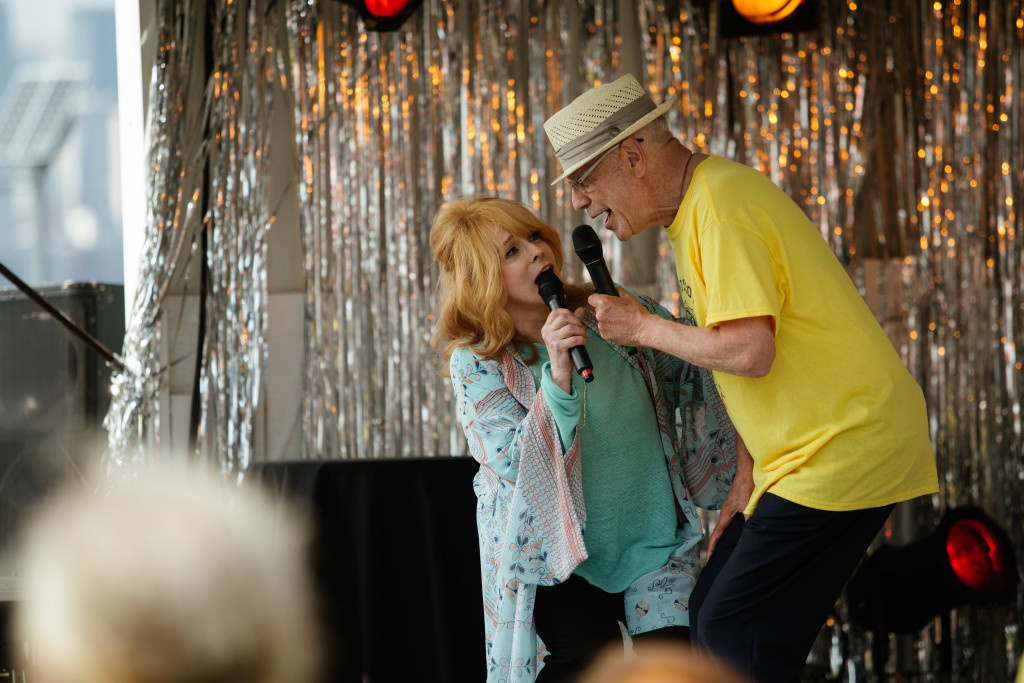 Ann-Margret and Alan Arkin in "Going in Style." (Warner Bros.)
Opening Friday in theaters nationwide, "Going in Style" is a remake of 1979 comedy that starred George Burns, Art Carney and Lee Strassberg, but in director Zach Braff's version, it's been updated to reflect the volatile climate retirees face in today's society.
Caine, Freeman and Arkin play Joe, Willie and Albert, respectfully, a trio of lifelong friends whose pensions become a casualty of corporate America despite devoting their lives to their work. Hard-pressed to keep up with their bills, the retired steelworks hatch a plan to rob the very bank that ripped them off.
Ann-Margret plays Annie, a fiery grocery cashier who takes a liking to Albert, even though he feels his days of romance are far behind him.
"I think it's cute that she gets a crush on Arkin's character — this grumpy old man who never looks at her and never smiles," Ann-Margret said, laughing. "But she gets this vibration from him. She goes after him. She's been divorced for a long time, but she gets this feeling from him and feels blessed that she's getting that feeling again."
Ann-Margret said she felt blessed to work with Arkin again following their pairing as the in-laws of Tim Allen's St. Nick in "The Santa Clause 3: The Escape Clause" in 2006, and the screen legend said in a separate phone conversation that he feels the exact same way.
"She's an absolute delight," Arkin said. "She's like a kid doing her first movie. She's game, she's fun, and she's got a wonderful sense of humor and will try anything. She's just a delight."
Ann-Margret said like the "Grumpy Old Men" movies, she was drawn to the script of "Going in Style" because it doesn't treat men and women of a certain age as punch lines. Even though the film is a comedy and the characters up in their years, they most definitely are made up of substance,  emotion and in Annie's case in particular, passion.
"I love the fact that I'm playing this woman who is living, I mean she's really living her life," Ann-Margret, 75, enthused. "You're not dead when you reach a certain age, and you can still have love and passion and everything if you're lucky enough. You have to keep living and not sit home and watch TV alone. You have to participate."
LINK: See Tim Lammers' archived video and audio interviews, including Denzel Washington, Casey Affleck, Angelina Jolie, Morgan Freeman, Hugh Jackman, Francis Ford Coppola and more on his new YouTube channel.
Luckily for Ann-Margret, Arkin, Caine and Freeman were more than willing to participate with "Going in Style," and she can't even to say how much of a blast it was working with them.
"I had such fun. These guys are adorable," Ann-Margret said. "They're mischievous and full of life."